Soulhouse Music Presents - Go Where You Are!!!!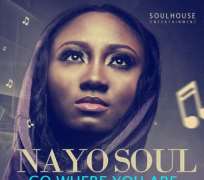 Nayosoul is back and bringing the fun in her anticipated new video! The soul singer teams up with Oc Ukeje, who makes an appearance as her love interest in creating an old-school, town-and-country themed video.
The video was shot and directed by Yemi Morafa for Film Boyz Inc.
To stream or download the song "GO WHERE YOU ARE"

http://www.hulkshare.com/ppmpes6kb0n4

http://www.twitter.com/nayosoul
nayosoulmusic on Instagram
2014-06-09 115537