Kanu calls for actualisation of 'State of Biafra'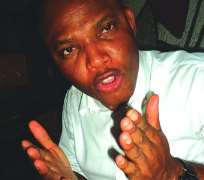 The agitation for the actualisation of the Sovereign State of Biafra took a new dimension at the weekend as its new leader in the struggle, Mr. Nnamdi Kanu, declared his readiness to fight all the way.
  Kanu, who spoke at a gathering of members of defunct Biafra, including aged war veterans, vowed that he would not rest until the Republic is realised.
  The event, held at Ngwo, Enugu State, was the maiden commemoration of Biafran Day on May 30 in remembrance of the events of 1967 when the late Igbo leader, Dim Chukwuemeka Odumegwu-Ojukwu, declared the Republic of Biafra.
  Kalu, the Director of Radio Biafra, used the occasion to unveil a multi-million-naira cenotaph in memory of Biafran fallen heroes killed during the civil war.
  He regretted that despite the declaration of the 'No Victor, no Vanquished' after the Nigeria/Biafra Civil War in 1970, successive governments, including the President Goodluck Jonathan-led administration, had continued to deliberately marginalise and make life unbearable for the Igbo nation and its people.
  He, therefore, called on all genuine Igbo people across the globe to rise up and join the crusade of putting in place the Biafran Republic, adding that it was time for the Igbo to pull out of Nigeria, which he described as 'a failed nation where nothing works.'
  Kanu noted that it was unfortunate and painful that 47 years after the civil war, the Federal Government had bluntly refused to pay soldiers who fought on the side of Biafra all their benefits and entitlements, whereas, all their counterparts in the North and western parts of the country had received theirs.
  Decrying the sufferings and agonies being faced by common Nigerians as a result of corrupt and bad governance in the country, he insisted that Nigeria is doomed and driven by world acclaimed selfish and corrupt leaders who do not believe in the well- being of the poor masses.