Military: We know where abducted Chibok school girls are held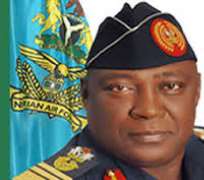 The Chief of Defence Staff, Air Marshal Alex Badeh, has said the military knows exactly where the abducted Chibok girls are being held but is careful about engaging the terrorists for the sake of the safety of the girls.
Badeh spoke in Abuja during a solidarity rally organised by the Citizens Initiative for Security Awareness outside the Defence Headquarters, Abuja on Monday.
He said, 'We want our girls back,; we want our girls back; we can do it, our military can do it but where they are held, can we go with force?
'If we go with force, what will happen? (they will kill them). So nobody should come and say the Nigerian military does not know what it is doing. We know what we are doing, we can't go and kill our girls in the name of trying to get them back. So we are working.
'The good news for the girls is that we know where they are but we cannot tell you, we cannot come and tell you military secrets here. Just leave us alone, we are working, we would get the girls back,' he said.
More than 200 school girls from Government Secondary School, Chibok, in the northeastern state of Borno State were abducted by Boko Haram insurgents since April 14, 2014.
The accompanying global outcry against the despicable act has raised the world attention to the activities of the terror group, which engaged in relentless acts of violence in the country.
The group has killed several thousands of people in market squares, churches, bus stops and other busy places, including army barracks, since 2011, when its daredevilry spiked to unprecedented level.