Sports, key element of national transformation: TAN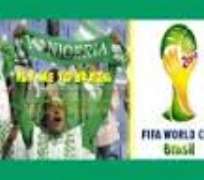 The Transformation Ambassadors of Nigeria has said the sports sector remains a key element of the paradigm of national transformation enunciated by President Goodluck Jonathan.
The Director of Public Communications and Strategy of TAN, Udenta Udenta, in a statement said: 'Apart from reinforcing and celebrating national unity, sports is a key instrument of social mobilisation and youth empowerment.
'As a means of propagating the successes thus far recorded in the sector by the Jonathan administration and rallying Nigerians behind the Super Eagles during the upcoming World Cup in Brazil, TAN has created the opportunity for 12 lucky Nigerians to enjoy an all-expense paid 12-day trip to Brazil to watch the Super Eagles' matches at the World Cup.
n
'Under the project 'Fly Me To Brazil,' TAN will host a live NTA and AIT programmes, where the winners of this unique promotion will be unveiled. The programme announcing the first six winners will be aired on May 25, 2014, while the remaining six will be announced on May 28, 2014.
n
'The participation process involves logging on to TAN's page on face book and signing up to get an application for the promotion and answering six simple questions. Winners will be contacted and published on TAN's face book page. This promotion will strive to be geo-politically representative as well as accommodating the interest of physically challenged Nigerians.