Genevieve Doesn't Deny Romance With D'banj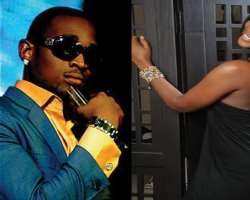 Genevieve pulls the celeb card! She says D'banj is not lying but still she won't confirm the news that D'banj broke about having an affair with her. The celeb wants to keep her life private.
In a recent interview, she said "Dbanj is an adult and he has said something. Let's just leave it at that" and after been pressed futher she insisted: "I am not inferring or insinuating anything. One person [D'banj] has said something and that really is enough. I am not saying I will never talk about it, but for now I do not wish to say anything about the matter."
Is D'banj lying? And she responded with a question: "Does D'banj lie?".
There's the speculation that it is a publicity stunt to follow with the re-release the 'fall in love' video, the first video short for D'banj's 'fall in love' was slammed by fans and was withdrawn with a new video has been shot with Genevieve Nnaji. If it is a publicity, what would Genevieve be getting from the arrangement – a fat cheque?
Shouldn't we honestly begin to consider that she might just have been swept off her feet. She's a woman. We would wait to hear from here when she is ready to talk about it or announce their break up.
Story by nollywoodgists.com/Dro