NAIRA APPRECIATES AGAINST DOLLAR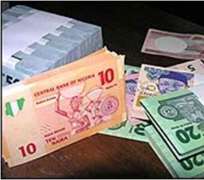 Naira appreciates against dollar
REUTERS
March 19, 2010 03:10AM
The Nigerian naira appreciated further against the U.S dollar on the interbank market on Thursday after more energy firms sold the greenback to banks, dealers said.
The naira was trading at 150.15 a dollar on the interbank on compared to the 150.28 it closed on Wednesday.
Dealers said the local unit of Italy's Agip sold $26 million on Wednesday, a day after Royal Dutch Shell and the Nigerian LNG firm sold an unspecified amount of dollars, raising liquidity in the system.
The naira was also supported by expected dollar sales by the local arm of U.S. energy giant Chevron on Thursday and state oil firm NNPC next week, traders said.
"Apart from the dollar inflows from oil majors, most banks are squaring up their positions. No one wants to hold dollars for the long-term because of the uncertainty created by the cabinet dissolution," one dealer said.
Acting President Goodluck Jonathan sacked the entire cabinet on Wednesday in a bid to consolidate his authority a month after assuming executive powers in Africa's months populous country.
"The market is treading cautiously and we are watching the direction of governance," another dealer said.
The central bank had sold $200 million at N148.40 a dollar at its auction on Wednesday, short of the $267.81 million demanded and compared to the $200 million it sold at 148.35 naira per dollar at Monday's auction.
Traders said the interbank rate could converge with the central bank's rate next week because of the expected additional dollar inflows.