Boko Haram kills 16, abducts five policemen, 10 Chinese workers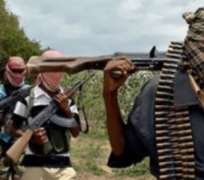 Boko Haram insurgents at the weekend, in  two other attacks, five policemen were reportedly abducted with their armoured personnel carrier (APC) while a Chinese was killed and 10 others kidnapped during an overnight attack in Kuseri Village between Gamboru Ngala  council and Cameroun. The missing/abducted policemen were identified by sources as Inspector Luka Maina, Sergeant Manya Chaka, Corporals Hassan Dauda, Emmanuel Onoche and Umar Ali.
Borno Commissioner of Police, Mr. Tanko Lawan, confirmed the abduction of the five policemen and the seizing of the APC. The 16 persons were feared killed when some gunmen  allegedly attacked Ngubdala village near Ngurosoye  community in Bama Local Government Area of  Borno State.
The killing of the Chinese and abduction of the 10 others, reportedly took place at an encampment used by the Chinese road workers close to Chibok where some school girls were kidnapped April 14.
'The Boko Haram militants were heavily armed, they came in five vehicles', an official in  Waza, a town near the site of the attack, said on condition of anonymity. He said the camp where the Chinese road workers stayed was usually guarded by soldiers from Cameroon's elite Rapid Intervention Battalion, but many of the troops were in Yaounde for a military parade.
'Cameroonian soldiers retaliated and the fighting lasted until 3 a.m. (0200 GMT)', said a local police chief. He said one Chinese worker was killed and 10 others had been missing since the attack and were believed kidnapped by the Boko Haram gunmen. A source close to the Chinese embassy in the Cameroonian capital, Yaounde, spoke of 10 missing and one wounded but would not confirm or deny whether one had been killed.