Two men arrested for burying woman alive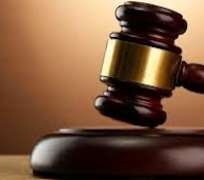 Two American men have been accused of burying a woman alive, according to court documents released Friday after the pair were arrested and charged with murder.
One of the two men, a 36-year old landscaper, knew the victim, Fatima Perez, a 41-year old mother of two, who was reported missing Monday evening in the city of Camden, New Jersey.
According to Camden police, Perez went out Monday to buy a car with $8,000 in cash. The landscaper, Carlos Alicea-Antonetti, had agreed to drive her to where she was to make the purchase.
But, according to a court document, the two had an argument in the course of which, Alicea-Antonetti told police, Perez fell from the van.
She got back in, at which point Alicea-Antonetti went to pick up his employee Ramon Ortiz, 57.
The two men gave different accounts of the events that followed, but both have admitted the young woman was buried alive in a wooded area south of Camden, in an improvised grave dug by Ortiz.
They pulled her out of the back of the van, where she was tied up and her mouth and eyes covered by duct tape.
Ortiz led police to her body on Wednesday, in a grave hidden under branches, near Monroe Township.
Police found nearly $7,000 in cash with Alicea-Antonetti when he was arrested.
The autopsy confirmed that the young woman suffocated to death, the court documents said.
The two men, charged Thursday, have been jailed, with bail set at $5 million.
Camden, a city of 77,000 residents, is one of the poorest and most violent cities in the United States.