Nigerian Breweries' pays N4.50 per share dividend to shareholders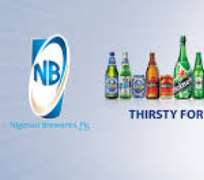 Shareholders of Nigerian Breweries Plc are to receive N4.50 per 50 kobo share as dividend for the company's 2013 operations.
This year's dividend represents an increase by 50 per cent over last year's when the company paid N3.00 per 50 kobo share to the shareholders.
The shareholders at the 68th Annual General Meeting  of the company in Lagos, approved the dividend, which amounts to N34 billion total payout.
According to the company, the payment will commence from May 15 to all shareholders recorded in the company's register of members  as at the close of business on Wednesday, March 5, 2014.
The shareholders  commended the management of   Nigerian Breweries  for  a 13 per cent increase in profit after tax recorded by the leading brewing firm in Nigeria.
The 450 kobo is the highest dividend the company has ever paid.
Nigerian Breweries Plc recorded a turnover of N268.6 billion for the year ended December 31, 2013, up 6.3 per cent from N252.67 billion in 2012.
Profit before tax rose  by 11.9 per cent from N55.62 billion to N64.61 billion. Profit after tax grew by 13.2 per cent from N38 billion to N43 billion.
In his address to the shareholders, the Managing Director/Chief Executive Officer of  NB Plc, Mr. Nicolaas Vervelde, expressed happiness that the company maintained its leadership position in the market in spite of the challenging operating in environment in 2013.
Vervelde said company's activities increased by seven per cent while  profit after tax grew by 13 per cent being further impacted by lower financing costs.
The total brewed product market, he said, recorded a modest growth in 2013 with the value for money segment playing a significant role in it, while the investments the company has made over the years and most recently with the acquisitions and subsequent merger of the acquired companies, has placed Nigerian Breweries in its best position to compete.
"Despite the difficult operating environment, we recorded growths in all segments of the market and indeed out-perform the market. We sustained our enviable leadership position in the market," he said.
Although Vervelde noted that the operating environment is expected to remain challenging in 2014, he assured stakeholders that  the company remains confident in maintaining its market leadership as well as take advantage of any growth opportunity that occurs.