Okocha: Mikel must step up to be counted in Brazil 2014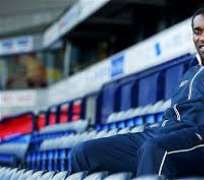 Nigeria's most exciting footballer ever, Austin Jay Jay Okocha, on Tuesday challenged Chelsea mid-fielder, John Mikel Obi, to take the opportunity of the World Cup 2014 in Brazil to etch his name among Nigeria's football greats.
The former Bolton Wanderer mercurial playmaker said Mikel must prove to Nigerian football fans he truly deserve to lead the team.
 
Okocha spoke at the launch of Super Eagles' World Cup theme song at the Globacom Headquarters on Adeola Odeku Street in Victoria Island, Lagos.
He said, "This is the biggest opportunity for Mikel to seize control of the midfield and prove to Nigerians that he is capable of fitting into that role without questions. For me, this is Mikel's World Cup. He did it very well at the Africa Cup of Nations in South Africa and should be able to do better because the World Cup is a bigger stage.
Okocha braced the even with other Nigerian football greats who along with Nwankwo Kanu, Victor Ikpeba and Christian Chukwu graced the event at Mike Adenuga Jnr Towers yesterday.
Okocha who refused to be drawn assessing Stephen Keshi's provisional list of 30 players released a week ago, however said that the former Togo and Mali gaffer has been saddled with the responsibilities of leading Nigeria to Brazil 2014 and should be allowed to do his job.
"I believe he is capable of getting good results for Nigeria in Brazil. Nigerians should allow him to do the job to his ability. The buck stops on his table and has the final say on who to take to the World Cup," observed Okocha whose play making role remains largely unfulfilled since retiring from the Eagles after the 2006 AFCON in Egypt.
He said that with the massive support from corporate Nigeria and government for the Eagles, the players have no reason to fail in Brazil.
"I must confess that I am jealous of this crop of players for the kind of support they are getting from everywhere including the government. After what they got for winning the AFCON 2013 in South Africa, they know that bigger things are in the store for them if they made Nigeria and Africa proud in Brazil," stressed Okocha.