Nigeria Breweries, Consolidated Breweries merged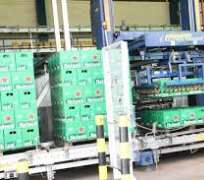 Heineken NV, the world's third-biggest brewer, said it plans to merge its two units in Nigeria, has concluded arrangements to combine business operations of Nigerian Breweries Plc and Consolidated Breweries.
According to a statement by Amsterdam-based Heineken said in a statement, over the weekend, .
the two businesses will combine to become more efficient
Heineken holds 54.1 percent in Nigerian Breweries whose brands include Heineken and Star, and 53.8 percent of the Consolidated Brewerries, the maker of beers such as Turbo King.
The combination is "based on a significant and compelling strategic rationale" and will allow the companies to tap growth in sub-Saharan Africa's second-largest beer market, Heineken said.
Benefits will come from economies of scale such as combined purchasing of raw materials or deliveries, it said.
Regulatory approval may take several months, and the businesses will operate as usual until then, Heineken said. Nigerian Breweries will remain listed after the merger, it said.
Heineken competes with Diageo Plc and SABMiller Plc in Nigeria, which is Africa's largest economy. Heineken reported "low double-digit" percentage growth in volume in its fiscal first quarter on April 24.
Africa is one of the world's most attractive and fastest growing regions for beer, and is a key platform for Heineken's continued investment and future growth.
Nigeria has a significant and growing beer and malt drinks market, underpinned by favourable demographics: an expanding population of almost 180 million people, of whom more than 70 percent are under the age of 30; increasing levels of urbanization and a rapidly developing middle class supported by rising income levels.
Lagos-listed Nigerian Breweries (NB) was incorporated in 1946, producing its first bottle of Star lager in 1949. The company has eight breweries and two malting plants. Consolidated Breweries, majority owned by Heineken since 2005, ranks behind Guinness Nigeria Plc  in the country's beer market.