I don't sleep around -Angela Okorie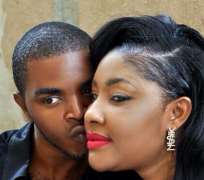 Recently Nollywood Actress, Angela Okorie has been battling with Adultery scandal and has debunked claims that she is cheating on her husband. She was also accused of stealing $3200 from him.( READ IT HERE) Angela vehemently denied the allegations, while Prosper and Nollywood actor, Prince Eke, insisted that she was guilty. In a recent interview she Speaks About Her Recent Adultery/Theft Scandal with Punch. Read excerpts below:
"I know Prince and Prosper connived and wrote all the rubbish about me. It doesn't have any effect on my marriage. My husband knows me and he knows I didn't do anything wrong. He supports my career. My husband knows I have a lot of male friends and I have female friends too. My husband said I should even forget about the incident.
Their aim was to destroy my marriage but it didn't happen. I hope Muma Gee knows the kind of man she is married to. I am a beautiful girl and I know a lot of people out there want something to do with me. But I am not that kind of person. What you see on TV is the script. I don't sleep around. How can I kiss Prosper? If I should have anything to do with a man, the guy has to be better than my husband and not somebody that looks like Prosper."
"Can you imagine that Prince asked a friend of mine who escorted us to the airport if I was going to South Africa with dollars? What is his problem? I know what goes around comes around. Prince has not reached my level yet and I am sure he will never get there. He will certainly face the consequences of not finishing my job. We have rules and regulations that guide us as a body. I paid him for the job, so there is need for him to finish it. He came to South Africa and dumped my job because he was shooting another film."
Click the link below to go to...
Genevieve Without Makeup: Cute Or Not?
Men harass me 'cos I'm big and sexy
Foluke Darmola, Kayode Salako's Marriage Attacked
Court Drama: Why Pastor Chris Okotie Wants this Guy Nailed!
EXCLUSIVE: OBA OF LAGOS SETTLES D'BANJ, DON JAZZY'S RIFT AT LAST!
Nigerian filmmaker curses Uganda
Patience Jonathan Sick Again, In Europe For Treatment