Nigerian artwork displayed at Oxford University's Saïd Business School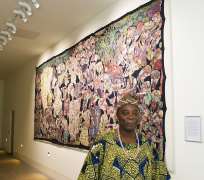 A 25 foot long batik by prominent Nigerian artist, Sangodare Gbadegesin Ajala, has been unveiled at Oxford University's Saïd Business School.
The artwork is called 'Oro Sise: The Initiation' and is inspired by Sangodare's upbringing in Nigeria.
Raised in the Yoruba culture, Sangodare did not go to school. He taught himself to read and write in both Yoruba and English, and became a traditional Yoruba Sango (God of Thunder) Priest and herbalist.
When he began to paint, he used this heritage and spirituality as inspiration. He now creates huge pieces of art inspired by the culture he grew up in. His pieces are a bridge between traditional Yoruba wisdom and the changed world of which he has also become a part.
In fact, his work leads the New Sacred Art Movement which aids in the protection of The Sacred Groves of Osogbo, a UNESCO World Heritage site and one of the most important religious and traditional cultural sites in the Yoruba area.
The batik now installed at Saïd Business School portrays the initiation into the priesthood of Obatala, the Yoruba God of Creation, in more than 30 colours. The piece took two years to complete, created on white cotton cloth using a wax resistant process.
Professor Roy Westbrook, Deputy Dean of the Saïd Business School, said: 'We are delighted to be able to display this batik and to welcome such distinguished artists to the Saïd Business School, particularly in the light of the increasingly strong ties we are developing with Africa.
'Through our MBA scholarships for outstanding students from Africa, and through the annual Africa conference that our students organise in partnership with the Oxford Africa Society, we hope to contribute to, as well as discover more, about this complex and fascinating continent.'