Obiano testifies at election tribunal, denies alleged double registration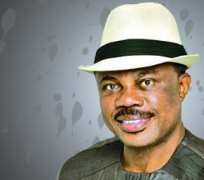 Governor Willie Obiano of Anambra State yesterday mounted the witness box at the Anambra State governorship election tribunal and denied being involved in multiple voters' registration.
Answering questions from the counsel to the Independent National Electoral Commission, INEC, Chief Adegboyega Awomlo, SAN, in the suit brought by Dr, Chike Obidigbo challenging his election, Obiano explained that when he returned to Anambra State after winning the primaries of his party to contest for the governorship, he applied to INEC to transfer his voters card from Lagos State where he had been voting during elections, to Anambra to enable him vote.
He said:     'I registered as a voter in Lagos State. When I returned to Anambra State to contest for the governor, I applied for a transfer of my registration. I went in the morning of August 19, 2013 to ascertain the process of transferring my registration from Lagos to Anambra State and to make it possible for me to vote in a booth near my house at Aguleri. I applied on that August 19, 2013 and submitted it the same day.
'The electoral officer, Nsofor, asked me to write an application and attach my voter's card. I did so the same day and when I submitted it to him, he told me to come back in two days time. I went back on the 21st of August, 2013, hoping to pick up the new voter's card. I was told to fill a form and I also did my biometrics.
'He told me to pick the new card in two weeks time. On September 3, 2013, I went to the Resident Electoral Commissioner, REC, in Awka to pick up the new card. I did not, at any point in time, have two voters' cards. The valid one I used in the election was the one given to me in Anambra State.'
Both Obiano's application to INEC and the voter's card he used during the election were admitted in evidence.
According to the governor, as at3rd September, 2013, his old voter's card was no longer in his possession. He also said that he could not vouch for the picture found against his name in the voters' register because he was never at Eri primary School for registration, but at the electoral officer's office at Otuocha for the registration.
He also faulted the age in the controversial Eri Primary School voters' register, saying that he was 58 years then and not 56 as was shown. According to him, he was 55 years old when he registered in Lagos.
In answer to another question, Obiano said INEC had never accused him of engaging in double registration or possessing more than one voter's card.