WE NEED STABLE POLICIES TO GROW OIL AND GAS INDUSTRY, SAYS MARK WARD, EXXONMOBIL BOSS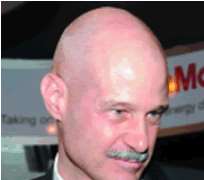 We need stable policies to grow oil and gas industry, says Mark Ward, ExxonMobil boss
By LOUIS IBA
Thursday, March 18, 2010
Managing Director, ExxonMobil Nigeria, Mr. Mark Ward says the recent increase in the volume of crude oil production in Nigeria provides an opportunity for the government to pursue its divestment programme for the economy and increase employment opportunity for citizens.
Ward, who linked the increased crude oil production to the recent amnesty programme in the Niger Delta which has allowed many oil firms to re-start shut-in oil wells, commended the government amnesty programme saying it had created the right atmosphere for exploration and drilling activities.
He, however, cautioned that under the post amnesty era, 'sustainable human and industrial capacity development is a critical plank on which the nation's future development depends.'
The ExxonMobil boss however listed continuous investments, innovations, stable government policies as fundamental for the growth and sustenance of the industry.
At present, government is considering the review of existing laws in the oil and gas industry through the petroleum industry bill currently before the National Assembly.
'We will need investments and innovations from the industry,' said ward. 'And also will need sound and stable government policies that lay the framework for sustained growth in all sectors,' he added.
Ward said the company had made massive investments in growing human capital and infrastructure in its host communities in Akwa Ibom state.
According to him, , the company had sunk in about $280million in the last decade in healthcare, education and capacity building initiatives to help support the government's objectives of diversifying Nigeria's economic base.
Exerpts:
Managing the boost in oil revenues
In recent months, Nigeria has seen recovery of its oil production capacity and prospects for additional growth which presents yet another opportunity for the government to diversify the nation's economic base, increase employment rate and grow the nation's GDP.
The oil and gas sector plays a major role in helping the government achieve these goals - whether it is in terms of the oil and gas exploration/production or the significant revenues accruing to government for development of these reserves, or contributing to the improvement of socio-economic infrastructure like qualitative education and healthcare.
Whichever area is involved, a coordinated and consistent harnessing of the oil and gas sector is essential to sufficiently strengthen Nigeria's economy and generate revenue for the people. To achieve this shared goal of sustained growth, effective public and private sector collaboration must be coordinated at every level of Nigerian society.
Corporate organisations and government must work cooperatively to make it happen. we will need investments and innovations from the industry. And also will need sound and stable government policies that lay the framework for sustained growth in all sectors.
Our local content programmes
Our national content strategy comprises three key elements: workforce development, supplier/vendor development and strategic community investments. The benefits derived there from are mutually beneficial to all parties. For Nigeria it means the building of a skilled workforce and viable industry that is globally competitive; the communities benefit from improved infrastructure, capacity building and education; and for us we have access to a pool of highly skilled trained employees and an expanded and competent supplier base that help our company affiliates provide value to the federal government and millions of Nigerians.
In the area of workforce development, decades ago we established a Technical Training Centre in Eket to train and produce a pool of skilled personnel for different aspects of the oil and gas industry. This has been instrumental to increasing the pool of skilled workers in the industry which would be beneficial not only to ExxonMobil affiliates but to the entire oil and gas industry in Nigeria. To date over 600 personnel have graduated from the training centre and Mobil has hired at least 500 of these graduates with almost 50 per cent from the local communities.
The centre is projected to produce 500 graduates over the next five years which would provide a constant supply of talent to keep us with the needs of the industry. The importance of a skilled workforce that provides a global competitive edge cannot be overemphasized.
Contract awards to indigenous firms
What used to happen previously when we commenced operations anywhere is that we would have to bring in everything that was needed - machines, heavy equipment, operators etc. we are proud of what we have been able to achieve over the years working with local vendors and building capacity, to the point where not only is the volume of their domestic business increased but they garner useful experiences in meeting our specifications which makes them better able to qualify for international contracts.
One example of this is the $80million contract commissioned to two local firms - Dorman Long and NigerDock - to fabricate and install wellhead platforms for our satellite field development projects.
Prior to the award of the contract this service was wholly provided by foreign firms staffed by foreign workers. However, working closely with the two local firms the job is being executed with the result that both companies can now effectively render similar service to other oil companies - locally and outside the country.
Capacity building projects
Capacity building projects and initiatives to promote small businesses are the key to sustainable development, especially in the Niger Delta region. Emphasis is on ensuring that apart from skills acquisition, the beneficiaries understand the fundamentals of business practices and are to establish sustainable ventures.
One such initiative sponsored by our affiliates is the Graduate Assistance Programme (GAP) - a scheme being run in collaboration with the Akwa Ibom State government to help reduce unemployment among the youths in the state. The initiative will provide six-month information technology and entrepreneurship training to 450 unemployed graduates in Akwa Ibom over a three-year period. The training is conducted in batches of 50 - trainees undergo three-month instructor-led-training and three months on the job training through internships in reputable private and public sector organisations including Mobil.
At the end of the training, participants are provided with a laptop computer to help them get started. So far 100 trainees have graduated and another 100 are currently undergoing training.
We have demonstrated our commitment to making scalable but sustainable long-term investments in projects and partnerships in the country. This enables rapid advancement of the government's objectives to provide sustainable development in other areas of the nation's economy.
Investments in host communities.
On strategic community investments, ExxonMobil affiliates in Nigeria have made sustainable investments, about $280million in the last decade in healthcare, education and capacity building initiatives to help support the government's objectives of diversifying Nigeria's economic base.