AASU On World Malaria Day 2014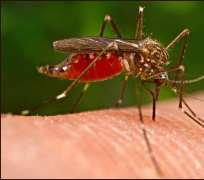 One year after the Abuja Declaration was signed by 44 malaria-endemic countries at the African Union (AU) Summit on Malaria; Africa Malaria Control Day was held on April 25, 2001. Subsequently World Malaria Day- April 25- was established in May 2007 by the 60th session of the World Health Assembly, World Health Organization (WHO)'s decision-making body.
The day was established to provide "education and understanding of malaria" and spread information on "year-long intensified implementation of national malaria-control strategies including community-based activities for malaria prevention and treatment in endemic area.
This year people, around the world, will mark World Malaria Day (WMD) under the theme: "Invest in the future: Defeat malaria."
It is a fact that the fight against malaria and other infectious diseases has been carried on at a steady gait over the years with remarkable results. According to WHO "in Africa, malaria deaths have been cut by one third within the last decade; outside of Africa, 35 out of the 53 countries, affected by malaria, have reduced cases by 50% in the same time period. In countries where access to malaria control interventions has improved most significantly, overall child mortality rates have fallen by approximately 20%."
Unfortunately the attention on malaria control is beginning to fade and has led to insufficient financial support. Hence the great strides made are now under threat. This situation made WHO to acknowledge that "With an annual shortage of US$3.6 billion, particularly across Africa where high-burden countries are facing critical funding gaps, all the impressive gains in malaria control over the past decade are threatening to grind to a halt and in some cases reverse. To avoid this, further investment must be made to ensure that this funding gap is bridged and that the endemic countries have the resources and technical support they need. Only then will it be possible to finish the job and see that malaria is eliminated worldwide."
But for how long will Africa continue to rely heavily on others to thwart some of the challenges confronting it? It is imperative for the African leaders and the general citizenry to undertake introspection in order to find their own realistic and pragmatic ways and means capable of impacting seriously on the efforts geared toward solving some of the problems hampering the development of their continent. Africa abounds in human resources notably its youth who constitute the majority of its population. There is no doubt that with less corruption, good governance, integrated efforts and the judicious use of its abundant human resource, Africa could contribute significantly in reversing some of its current predicaments i.e. malaria, infectious diseases etc.
Therefore AASU calls on African governments to combat unabatedly corruption, adhere unreservedly to the principles of good governance, develop a strong spirit of self-reliance and reinforce their coordination efforts through a stronger and better structured African Union (AU) in order to contribute effectively and collectively in eradicating the causes of some its doldrums such as malaria and other infectious diseases.
AASU would like, equally, to use this opportunity to call on the African youth particularly the students not to lose hope and be aware that nobody will develop their continent except African themselves; hence the youth/students should develop the spirit of volunteerism and put all the qualities they possess-dynamism, energy, initiatives, knowledge etc. - at the disposal of their people in order to contribute in all efforts aimed at impending the numerous problems confronting their continent like malaria and other infectious diseases.
Let's us together kick out malaria out of Africa and elsewhere!
AWAAH FRED
(Secretary General) [email protected]/00233(0)243101626