The day I had to slap my dad - Actor Femi Adebayo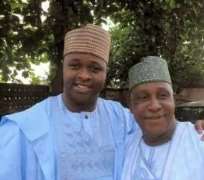 In a recent chat with a journalist Jayne Augoye, popular Yoruba actor Femi Adebayo talked about his career and family! Adebayo, who is also a trained lawyer who also bagged a Masters degree in Law, succumbed to the trappings of super-stardom to pursue a career in the Nigerian movie industry.
But not withstanding Adebayo still nurses a silent ambition to practice law later.
"Litigation is going nowhere. I see my time in entertainment as God's calling, so I have to heed to the call. I would definitely go back to law at the end of the day," he notes.
So, what happens when a script requires him to either slap or beat up his father?
"Work is different from family. On the field, we are totally different. We drop being family when we are at work. This is because I see him as a senior colleague (My oga at the top), and whatever we are supposed to do on set, we do it, and that's theatre. I once had scenes that I acted as an armed robber and went to rob my father, and I had to slap him and also had to do it well without any inhibitions," he says, laughing.
Adebayo says his dad would scold him if he fails to interpret the role accordingly.
"If I don't play the role well, he (my father) will get upset and tell me to slap him well, saying, 'It is your work', Acting came naturally to me. And I am grateful to God for that and that story is not true at all. I am yet to announce whether or not I am going into politics. If I decide to go it will not be a secret. So people should wait for that time – though I believe voice of the people is the voice of God."
Click the link below to go to...
Jonathan Must Apologise For Killing My Mum- Seun Kuti
REVELATION: 'Iyanya Is Not My Kind Of Artiste, He Is A Baby To Me'--Oritsefemi
Veteran Filmmaker, Teco Benson, Peace-Antiam, Mike Adenuga, Others For National Honours
Nollywood Actor Refutes 2years Without Sex Rumour, Says He Was Impersonated
Davido, Wizkid At Loggerheads, May Take Fight To Streets Like Pasuma, Osupa Saheed
Genevieve Nnaji: Still Standing Tall
Psquare brother vats anger on NGOs