For Those Guilty Of Blood Shedding
BOKO HARAM, KIDNAPPERS,RITUAL KILLERS, ASSASINS, OCCULT MASTERS, RITUALISTIC POLITICIANS,FAKE PROPHETS , IMAMS, ALPHAS ETC) (PLEASE READ AND KNOW YOUR FATE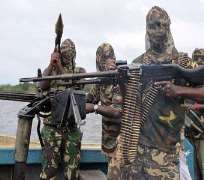 Genesis 9…6…Whosoever shed man's blood, by man shall his blood be shed, for in the image of God, made he man.
1 Samuel 2…25…If one man sin against another, the judge shall judge him but if a man sins against the Lord, who shall intreat for him?
Provrebs 6…16 to 19….these six things doth the Lord hate, yea, seven are an abomination unto him..A proud look, a lying tongue, and hands that shed innocent blood. An heart that deviseth wicked imaginations, feet that be swift in running to mischief, A false witness that speaketh lies and he that soweth discord among brethren.
Psalm 106…38…the land was polluted with blood
Isaiah 59..3…for your hands are DEFILED WITH BLOOD AND YOUR FINGERS WITH INIQUITY, YOUR LIPS HAVE S22POKEN LIES, YOUR TONGUE HATH muttered perverseness.
Jeremiah22.17 but thine eyes and thine heart are not but for thy covetousness ,and for to shed innocent blood ,and for oppression and for violence ,to do it.
Matt 27..6 to 8…And the chief priest took the silver pieces and said, it is not lawful for to put them into the treasury, because it is the price of blood, and they took counsel, and bought with them the potters field, to bury strangers in. It is called the field of blood unto this day.
Heb 9…27..It is appointed unto a man once to die and after death , the judgment.
Genesis 4 ..10 to 12..And he said, what hast thou done? The voice of thy brothers blood crieth unto me from the ground, and now, art thou cursed from the earth, which hath opened her mouth to receive thy brothers blood from thy hand when thou tillest the ground, it shall not henceforth yield unto thee her strength, a fugitive and a vagabond shall thou be in all the earth
. The blood speaks and any man that sheds blood will not escape Gods judgment.
Isaiah 3. 11 woe unto the wicked ,it shall be ill with him, for the reward of his hands shall be given to him.
God had already placed a curse on those shedding blood.
Psalm 37..20..But the wicked shall perish, and the enemies of the Lord shall be as the fat of Lambs, they shall consume, into smoke shall they
Psalm 37..15 Their sword shall enter into their own heart, and their bows shall be broken. consume away.
Ecc 12..13-14….Let us hear the conclusion of the matter, Fear God and keep his commandments, for this is the whole duty of man. For God shall bring every work into judgment, with every secret thing wether it be good or evil.
Matt 25..41,,….Depart from me, ye cursed into everlasting fire, prepared for the Devil and his angels
Galatians 1..8 says.. But though we or an angel from heaven preach any other gospel unto you than that which we have preached unto you, let him be accursed.
Believers, remain calm and put your trust in God..

Don't be moved by circumstances, for in Ps. 37, 39 to 40,…But the salvation of the righteous is of the Lord, he is their strength in the time of trouble. And the Lord shall deliver them from the wicked, and save them, because they put their trust in him. And Proverbs 18, verse 10 says, the name of the Lord is a strong tower, the righteous runneth into it and is safe
Those listening to the Devils voice will be put to a great SHAME. A PLACE WHER E MANY POLITICIANS, IMANS, ALPHAS, PROPHETA, spiritual leaders ETC ARE GODLESS, AND ARE INTO RITUALS, MANY DEAL IN HUMAN PARTS, THEIR TIME IS RUNNING OUT. No wonder many evil forests of human parts and dead bodies are rampant in the country AND OUTSIDE. Many leaders are claiming not to have a clue to such places. They are lying through their teeth. God is watching . Despite your stolen money, stroke blood money, are they not getting older? You are deceiving yourself.
Run as much as you can , you can't escape Gods judgment. For their information, they are living miserable lives and should they not repent, their portion is awaiting them in hell. The truth is bitter. .Those sponsoring blood shedding, those encouraging it and those who could have spoken to change the situation but kept quiet out of fear or sheer pretence, are all guilty before God.
Even those who says it is not my portion, are not going to go scot free, for whose persons portion is it to die in cold blood? It is an idea from the pit of hell.

PASTOR LOVINA AMANGALA IBURENE
THE TRUTH MINISTRY BRINGING THE TRUTHTHAT FREES( World Public Ministry)
Facebook..pst lovina, evangelist lovina amangala iburene, the truth ministry bringing the truth that frees, the true lovers of Christ world charity ministry
Pstlovina @yahoo.com, [email protected]
08135907006, 08066350994, 07014821208, 08177358063
Disclaimer:

"The views/contents expressed in this article are the sole responsibility of

PASTOR LOVINA AMANGALA IBURENE

and do not necessarily reflect those of The Nigerian Voice. The Nigerian Voice will not be responsible or liable for any inaccurate or incorrect statements contained in this article."