Obiano's First Week: Morning Shows the Day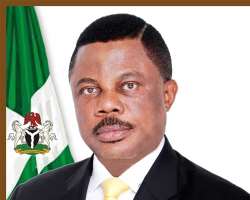 If it is true that morning actually shows the day, then, citizens of Anambra State may already be getting value for affirming 'continuity' when they voted en mass for Chief Willie Obiano in the last gubernatorial elections thereby assuring a smooth transition from Governor Obi to Governor Obiano. Whereas Mr. Peter Obi's exit strategy was to finish strong hence he was commissioning projects up to his last day in office; the new Governor Chief Willie Obiano, practically hit the ground running with a flurry of activities at Government house Awka and some parts of the state involving project meetings, consultations and inauguration of committees. In fact, Governor Obiano's emphatic take-off has left keen observers, and students of government beating their chest that indeed Anambra is on the cusp of great things in the days and months ahead.
While it may be very early in the day to draw conclusions on the factors that would define Obiano's tenure as Governor of Anambra State, skeptics of his abilities in government had reasoned that the first week activities are not enough yardstick to determine his grasp of the flow and ebb of bureaucracy. On the other hand, there is course for optimism amongst those who knew and believe in Akpokuodike's abilities at surmounting the odds. Some political pundits have surmised that the carnival-like inauguration of Governor Obiano and the seamless pace of activities in Awka government house since then are signs of good things to come.
Governor Willie Obiano's first week in office started on a high note after the Monday 17th March 2014 colourful Inauguration and handover ceremony at Alex Ekwueme Square, Awka. Next day the new Governor appeared at his desk in Government House and commenced work in earnest. His first major assignment was the first Executive Council meeting, and thereafter appointed three principal officers and observed their swearing-in. The officers include; Secretary to the State Government, Mr. Oseloka Obaze; Chief of Staff, Professor Joseph Asike and the Principal Secretary, Mr. Willie Nwokoye. While the SSG was retained at his post from the previous administration, the two others came armed with experience from the ivory tower and the private sector respectively.
Unfortunately, as often seen in these climes allusions are already being made in some quarters to the fact that the Governor, Secretary to the State Government and the Speaker are all from Anambra North Senatorial District. But then it is a fact that the exigencies of delivering good governance outweigh parochial considerations in situations that were not necessarily created by the new Governor. Whereas the SSG was retained at his post; the Speaker has been functioning as elected in that capacity. Thankfully, as would be expected of a focused technocrat, Governor Obiano marched-on unperturbed to the next assignment.
Next stop was a meeting with members of the Anambra State House of Assembly where he set the tone for a mutually respectful partnership that will bring great benefits to Anambra State. Addressing the lawmakers, Governor Obiano said 'Long before I began to take political leadership seriously, I had always known that any democracy without a strong parliament is a farce! I have known that the legislature is the true backbone of democracy and the single most important repository of the sovereign will of the people. '
Obiano told the lawmakers, 'I have no doubt that if Anambra State is to make the long anticipated transition from merely aspiring to greatness to attaining actual greatness, my administration must close ranks with you. We must work together to unlock the potentials of our people and launch Anambra into a new phase of development.'
Preaching the same message of respect for separation of powers and checks and balances, the Governor observed at a meeting with Judges on Wednesday 19th march, 2014 that since our country's recent return to democracy, nowhere has the Judiciary played its role as the last hope of the common man as it has done in Anambra State. As Obiano put it: 'Anambra's great history with the courts does not only underscore the importance of your role in our developing society; it also shows that Ndi Anambra are increasingly becoming aware that their grievances can always be fully addressed in a court of law. This is a sign of growth. We have turned 360 degrees from where we once were to where we must be.'
The Chief of Anambra State Justice Peter Umeadi later took the Governor round the Judiciary and High Court complex to take stock of structures and facilities that needs rehabilitation and replacement with a view to assisting in quick dispensation of Justice.
Same day the Governor Obiano inaugurated the Agriculture Committee and charged them to create agricultural revolution in Anambra State. The terms of reference for the Committee include amongst other tasks: To prepare the agriculture blueprint for Anambra; prepare funding and financing model for agriculture; carryout any research necessary for the assignment; determine the current output of each of the target crops; map the state to determine areas where specific crops can be grown for optimum yield, determine gaps in the production of each of the four target areas: rice, maize, cassava and poultry farming.
Obiano told the Committee headed by Professor Emeka Omaliko, 'You were selected for your expertise and we want you to make specific and actionable recommendations that would enable us achieve set targets. To give you an idea, if currently Anambra is farming on one field, we want you to tell us how we can cultivate on hundred football fields effectively.' Futhermore, Obiano charged the Committee, 'we expect definite information on how to advance agriculture in Anambra. Anyone who goes with the mindset or says it is not achievable, is not welcome here and I won't hesitate to throw the person out, but once you are ready to work, you will get all the support.' He emphasized.
To underscore the importance of peace and security in the 189 communities in Anambra State, Governor Obiano fast-tracked consultation meetings with the Royal fathers and the Anambra Council of Elders. He told the Traditional Rulers and the Elders Council, 'as custodians of our culture and tradition; leaders of thought and elders in communities, you have a big role to play in setting the ethical and moral tone for Ndi Anambra and Ndigbo in general. We have set out on this journey to return Anambra State to a well-deserved glorious path, but we can hardly make any progress if we do not win with the people. So, I expect you at various levels in your respective communities to continue to play the role of mobilizing the critical mass of our people to accept our programmes and projects.'
Speaking further Governor Obiano told the royal fathers: 'You must help in arresting the decay in the society by mobilizing the people to ask questions about sudden wealth that has no easy explanation. The era of conferring chieftaincy titles on people of dubious backgrounds and questionable public profiles must end. You must champion the rebirth of the values of hard-work and enterprise in your domains; and inspire your subjects to understand the values of education and the need to acquire life-saving skills.'
In the same vein, the Governor charged the leadership of the Association of Anambra State Town Unions (ASATU), made up of the Presidents Generals of the 189 communities in Anambra; 'my administration is sparing no effort in the fight against the criminal elements that have changed the reputation of our cities. It is high time we gave RED CARD to criminals in Anambra State and that is where you come-in. As leaders of our town unions, you must always stand up for what is right in our society, you must device a mechanism for identifying the bad eggs living among you, while we are creating better jobs for those willing to work.' Obiano warned the ASATU to avoid the niggling friction between them and the traditional rulers, and assured that his administration will work hard to eliminate the friction and build understanding that will preserve the peace in Anambra State.
Just when some felt that the Governor should pause for break from the busy schedule of consultations and project meetings, Obiano, showed signs of a strong leader when he threatened to penalize contractors and consultants handling government projects some of whom were suspected to be doing a shoddy job. Addressing a large group of local and foreign contractors and consultants at the Conference Hall of Government House, Awka, Obiano threatened to terminate the job of any contractor found to be performing below expectation.
He declared that his relationship with consultants would be based strictly on performance. "We will be checking the quality of your work and so long as you are doing your job as agreed, you won't have problems with us. For people doing designs for us, we want the best quality in terms of designs.' He however assured the contractors and consultants that anyone who did a credible job and met their contractual obligations would be retained. Earlier, the Governor assured Development partners that the cordial relationship they had with his predecessor will be sustained. He promised to work assiduously and more responsive, grow and strengthen collaborations and make it easier for donor interventions in Anambra to serve as critical building blocks to achieving the State's development needs.
In the midst of the tight schedule, Governor Obiano showed his humane disposition when he ran to the rescue of some students involved in an accident admitted at the Nnamdi Azikiwe Teaching Hospital Nnewi. The Governor did not pick the health bill and assisted the hospital's power supply, he also touched on his health policy for Anambra State.
Obviously Governor Obiano's accomplishments during the first week didn't escape the attention of ndi Anambra. Already people are taking stock of his steps in leadership, and not a few were willing to proffer opinions. Mrs. Oby Ude a civil servant could not hide her feelings: 'The man has come with a lot of enthusiasm. You can see he has clarity of what he wants done. I must say there is business-like approach in how he goes about governance and getting everyone around him to do things.' On his part, Jerry, a Contractor had this impression about Obiano, 'this man is a non-nonsense man. I pity those who will think he is not ready to bite. I think may not know it yet but this is good.'
Perhaps the most telling of the observations, comes from Tessy Okonkwo, a broadcast Journalist, 'I have observed and heard Governor Obiano since the Inauguration. I have seen him speak and read his lips while speaking. The man is believable and you can almost feel it, there is a new hope for a better Anambra. My prayer is that he sustains the pace that I have seen.'
So far, Governor Obiano appears not to have broken stride all week and there is no indication that the style would change pretty soon. Given the scale of progress recorded during the week there is every reason to believe that the man is indeed cut-out to not just fulfill his electioneering campaign pledge but is ready to surpass a legacy of performance left by his predecessor. The signs are there, and no one is left in doubt that Obiano has started creating his Governorship footprints.
BISHOP 2
BISHOP 7
GOV-OBIANO OFFICIAL-PORTRAIT-2014-PIX-VIA-OBIANO-USAFRICA-EDT-V7CHIDO5