Who Graced The Jonathan's and Atiku Abubakar Children's Weddings?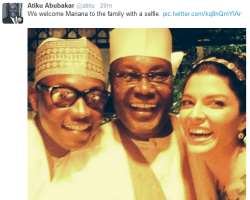 The mother of all weddings took place yesterday, as two great people in Nigeria are sending their children to marital bliss. Abba Atiku Abubakar, the son of former Vice President Atiku Abubakar, wed his beautiful American fiancee yesterday in Dubai.
So is president Jonathan's Daugther as she Got married yesterday in Baylsea state.
The question is how did top politicians divide themselves for these two occassions though , Atiku's held the wedding on a low key at Dubai as the parents of the bride demands...
Here are the pictures of both weddings as they took place ...people from the high and mighty were there to grace the occasion.