Nuella Is My Missing Rib--Tchidi Chikere Confesses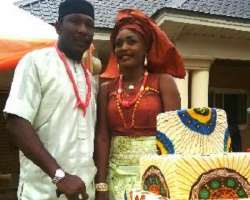 On Saturday, March 29, 2014, Nollywood director, Tchidi Chikere and his actress lover, Nuella Njubigbo tied the knot traditionally amidst controversies. Before the wedding, it was alleged that Neulla snatched the handsome man from his estranged wife, Sophia, who is also an actress.
In an interview with Encomium magazine, Tchidi described his new wife as his missing rib and also disclosed that members of his family have accepted Nuella as his wife.
"I have the support of my family, who have fully accepted Nuella. Having concluded all the traditional rites, she is now with me in Mbaise. My people have given her wrappers and taken her to the farm. We are very happy. This looks more like my first marriage. In fact, Nuella is my missing rib," Tchidi said.
© 2014 Nollywoodgists.com
Click the link below to go to...
Nollywood Actress Nuella Njubigbo: I Had No Control For My Love For Chidi
EXCLUSIVE: I'm Still Married To Tchidi Chikere—Sophia Cries Out
BREAKING: Tchidi, Sophia Chikere Marriage Crumbles
TCHIDI CHIKERE MOVES IN WITH PREGNANT NUELLA NJUBUIGBO + THE DIRTY SECRETS OF HIS ESTRANGED WIFE, SOPHIA
EXCLUSIVE: Why Tchidi Chikere Broke Up With Sophia**Actress, Nuella Njubigbo Fingered
Hot Pants Actress, Nuella Njubigbo Dumps Tchidi And Emenike For Gov. Rotimi Amaechi