DIAMOND BANK, FCMB ACTIVITIES RAVE THE MARKET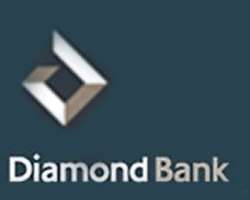 Diamond Bank, FCMB activities rave the market
By MADUKA NWEKE
Monday, March 15, 2010
Transactions in the shares of Diamond Bank and First City Monument Bank (FCMB) that traded a total of 152,975,193 shares worth N1, 417,727,206 among investors in 283 cross deals helped to rave up the market at the close of trading on March 11, 2010.
The banking sub-sector where the duo belong have been doing well since this 2010 despite confidence challenge that bedeviled the industry as a result of vote of no confidence passed on some banks by CBN, the apex regulator. The industry has been controlling activity on the floor of the Nigerian Stock Exchange (NSE) both in volume of transactions and return on investment on daily bases.
At the end of transactions last Thursday, a total of 509,501,952 shares worth N4.697 billion exchanged by investors in 7,083 deals were traded. Out of this, the Banking sub-sector contributed a total of 364,441,938 shares valued at N3.430 billion that changed hands in 3,805 deals. The duo of Diamond Bank and FCMB boosted activity in the sub-sector's transactions with total shares accounting for 152.975 million shares that cost N1.417 billion in 283 deals.
The two banks have been doing well in terms of share price appreciation. At the close of transactions, FCMB added 46 kobo to close at N9.72 while Diamond Bank gained 10 kobo and closed higher at N9.00 per share respectively. The two banks, according to some analysts are among the stocks that are known for high investment returns.
One of the analysts said that they are beginning to rise adding that by the end of second quarter, those who bought into them will be smiling home while those who neglected them will regret.
At the end of transactions, market capitalization of traded equities hitherto at N5.638 trillion gained N62 billion that represents 1.08 per cent to close at N5.699 trillion while the All-Share Index that initially stood at 23,412.41 picked 253.92 points to close at 23,666.33 bases points.
The sustained impressive performances of all market indicators show that the market has fully recovered even though there will be some market dips from time to time. One of the analysts that spoke to Daily Sun said that wise investors should not buy now until about Wednesday March 17, being the third week of the month. According to him, it is time for investors to take profits adding that any one who buys now will have the stock drop before it begins to rise again. He advised investors who have already budgeted to buy to look towards the kind of stocks that are neglected. These are the stocks that will make gains next week, he said.