Paternity Scandal Trails Yemi Solade; Dumps 10-Year-Old Love Child In Lagos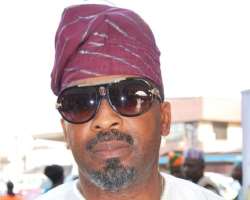 According to a report by an online news magazine, popular Nollywood actor, Yemi Solade has been accused of abandoning a child bore for him by a lady he met on a movie set some years ago. It was also reported that the handsome thespian has denied fathering any other child apart from the children his pretty wife has given him.
Below is the story as reported by Aproko247;
Stardom is one thing some people cherish a lot, but it is certainly not easy to maintain. For those, who are in the limelight, especially handsome male folks, it is not an easy task to handle the temptation from beautiful women, who flock around them like ants do to sugar.
Amongst Nigeria's sensational and popular actors is Yemi Solade, who is obviously handsome and intelligent. In fact, he is one of the finest brains the Nigeria movie industry; Nollywood can boast of. Those who know him described him as a professional make-believe star, and he is respected for being blunt and fearless.
However, the role model to some up and coming actors is presently at the centre of a paternity mess.
An insider informed Aproko247 that Yemi Solade put a lady in the family way about 10 years ago. We were informed that the actor had good times with the lady, while on a movie location then.
The lady's name was given as Seun Olowolusi Obafemi, and we heard that one thing led to another, and that they had a fling, which resulted into pregnancy.
We were reliably informed by a source close to the lady that Seun, who was then very young and naïve, ran away from home only to resurface later, when the pregnancy had advanced.
Aproko247 gathered that the lady was operated upon by doctors and that she was unconscious in the hospital for 21 days.
Reports have it that she scaled through the ordeal and gave birth to a baby girl, who has now grown to become a beautiful 10-year-old.
This magazine got hold of the little girl's photograph, and even a first glance revealed that she is a carbon copy of Yemi Solade.
Sources revealed that Seun later informed her parents that it was Yemi Solade that got her pregnant during a fling at a movie location.
One of the family sources, who spoke with Aproko247, informed us that Yemi Solade was subsequently approached by the lady's parents and he reportedly agreed that he was the father of the baby. He was said to have promised to provide for the child's upkeep, but we were informed that he reneged on this.
The little girl is said to be living with her grandmother in Ire-Akari, Isolo area of Lagos State, and she is said to be in primary five in an undisclosed school in the area.
Meanwhile, Yemi Solade denied knowledge of the baby and her mother, when Aproko247 contacted him for his reaction on the allegation.
"I don't know what you are talking about and I am sure it is not me your sources referred to. Please do your research well. I am presently with my wife and children," a confident Yemi Solade told us.
First paragraph of this report was written by Nollywoodgists.com