BOKO HARAM: PRODUCT OF CORRUPTION- BISHOP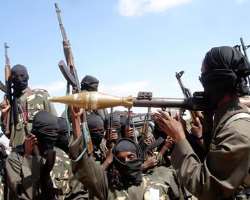 The Bishop of Catholic Church, Maiduguri Dioceses, Most Reverend Dr. Oliver Dashed Doeme has said, the Boko Haram crisis ravaging the North Eastern part of the country, especially Borno, Yobe and Adamawa is a product of corruption that has engulfed the country.
Briefing newsmen at the Saint Patrick Cathedral Church, Maiduguri, the Bishop said with the resources the country has, Nigerian youth are supposed to be trained and gainfully employed, but because of excessive corruption in the land, the Boko Haram crisis and other vices like kidnapping, robbery and youth restiveness emerged.
The Bishop condemned in its totality the senseless killings and maiming of innocent people in the name of religion, adding that no religion preaches violence or killing of people, as according to him, " life is sacred and nobody should terminate any body's life apart from the creator".
Dashe however appealed to Nigerians to work together as one family in order to bring a halt to the senseless killing and destruction by the Boko Haram sect.
He appealed to politicians to stop playing politics of religion to achieve their selfish interest, which he noted is not good for the collective progress of Nigeria.
He said, God has blessed this country both nationally and with human resources, but due to the level of corruption , only few individuals are sitting on the wealth which is supposed to be distributed equitably to all Nigerians, stressing that, "if all youths are employed, we wouldn't have witnessed the carnage we are witnessing today". The cleric said.
" Attacks on schools, places of worship and killings of innocent students is unacceptable, Iam therefore calling on the federal government to equip the security agencies so as to be able to checkmate the activities of the insurgents".
"Iam also appealing to the Boko Haram sect to lay down their arms and embrace dialogue, as violence cannot solve any problem. It is unfortunate that the ongoing crises in the north east has seriously disrupted economic, social and political activities in the region". Dashed stressed.