The Stewardship Of Peter Obi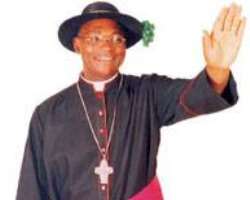 Our Society has been turned upside down, with misplacement of values lurking everywhere in the name of modernity. The sooner we search and entrust our destiny as a State into the hands of those that mean well, the better for us. Part of the problem confronting the world of today is the total divorce of God in our lives. A leader who has divorced God will certainly lead ignoring the ethics of Christ. We need real men who would understand the problems of the society and resole to solve it positively. Where do we see such men today?
My sisters and brothers, this is where the trouble lies. How many of us are trustworthy in our responsibility to the common good, to public care and welfare to which we have been committed? Many people in public offices at all levels in Nigeria fall below the mark in trustworthiness, sense of responsibility and accountability. We are generally faced with the terrible situation of corruption coupled with impunity. Power corrupts; absolute power corrupts absolutely. Asking for bribes and looting of public funds are no news. The public officials entrusted with public money divert the money to their private accounts. It has become a culture. Anybody acting differently is either a fool or an idiot. How many church leaders, politicians, government officials, judges, civil servants and even security agents will act with the common good at heart and not out of desire to secure one's personal interest?
Amidst the madness, we have to acknowledge how God has been looking after the people of Anambra State through the stewardship of Mr. Peter Obi, CON, The Governor of Anambra State for the past eight years. Indeed, before Mr. Peter Obi became the Governor, Anambra State looked like a State abandoned by God. Many people in Anambra State really believed that Anambra State was abandoned. Political turmoil and turbulence generated by godfatherism, which halted development in the State. The little money that would come to Anambra State was used to settle the godfathers. An attempt to shake off the tentacles of the godfathers resulted in wanton and reckless destruction of government houses and property. Schools at all levels suffered abysmal neglect; public hospitals suffered the same neglect; life was listless as people in Anambra State were bereft of sense of direction and responsibility. One could liken the state of affairs in Anambra State to the situation in Israel at the time of the Judges "In those days there was no king in Israel, and everyone did as he saw fit" (Judges 21:25). Lawlessness was the order of the day; gross indiscipline, general insecurity and lack of respect for human dignity and life, lack of development in most public sectors and loss of confidence in government.
The coming of Mr. Peter Obi was enigmatic. Where did he come from to contest the governorship election? Many people did not know him. He sounded unusual, a person who knew the problems of the people of Anambra State and how to tackle them. He got the people's vote. The powers-that-be thwarted the result. Doggedly he fought for the people's mandate through the courts. He won. Before he could settle down to carry out his carefully prepared plan of action, he was recklessly impeached. Another dogged fight through the courts brought him back. Before the constitutional end of his term, he was again ousted and he fought again to get back to the saddle.
His first term did not see much of what Mr. Peter Obi had for the people of Anambra State. Probably, he had learnt how to navigate the troubled waters of Anambra and Nigerian politics in order to have a second term that is stable. The impact which Mr. Peter Obi made on Anambra State and in Nigeria in general is there for everybody to see, even though people perceive it differently. For those who believe that the resources of Anambra State belong to the few well-placed politicians and men and women of influence, Mr. Peter Obi is a useless person! He did not share the money properly. Instead of giving political associates the money to empower them, he is doling out money to the churches! But for those concerned with effectiveness and efficiency of governance, they see the wisdom of Mr. Peter Obi as the manager of public resources in prudently using public resources to achieve the objective of government in a most economical and cost-effective way - partnering with the churches, the last hope of the society in integrity, sincerity and honesty.
We commend Mr. Peter Obi for his perceived determination to serve the people of Anambra State through his development strategy of Anambra Integrated Development Strategy (ANIDS); for his courageous return to their legitimate Church proprietors (Anglican and Catholic) of schools forcibly seized by the Government of East Central State under Chief Ukpabi Asika, that destroyed education in our area; his determination to revamp education and health care by partnering with the Churches to reconstruct dilapidated schools, providing buses, computers, generators, laboratory equipment, funds for sports and other needs of the schools system to both public schools and mission schools; his investment in healthcare delivery by uplifting hospitals, maternities and health centres, and schools of nursing, midwifery and medical laboratory to provide suitable personnel in our health institutions. Anambra State enjoys one of the best networks of roads. Retired persons, the poor and marginalized of Anambra State are receiving government attention. Every aspect of life in Anambra State has benefited from the administration of Mr. Peter Obi, CON! Indeed, Anambra State under his administration is no longer an abandoned State!
As a priest of God, I daily pray to God to bless Mr. Peter Obi and all who helped him to be his faithful servants and stewards to the people of Anambra State. I would like God to bless Her Excellency, Mrs. Margaret Obi, the First Lady of Anambra State who does not make noise and show about her status but in all simplicity and humility is caring for the less privileged and vulnerable in Anambra State with motherly love and devotion. She has left her mark in many out-of-way communities. It is true that human judgment may not be complete and definitive. It is only God who will give each whatever praise the person deserves.
As we thank God for what he has done for Anambra State through the selfless, humble, prudent, responsible stewardship of Mr. Peter Obi, we turn to God praying with Pope Francis to the Lord "to grant us more politicians who are genuinely disturbed by the state of society, the people, the lives of the poor. It is vital that government leaders and financial leaders take heed and broaden their horizon, working to ensure that all citizens have dignified work, education and healthcare" (Apostolic Exhortation Evangelii Gaudium - The Joy of the Gospel, no. 205). May the incoming and future political and government leaders in Anambra State and beyond never forget the people, especially the poor, the neglected and marginalized but make them the centre of their attention. May they be more concerned about providing nourishment or dignified sustenance for all people, general temporal welfare and prosperity, education, access to healthcare, employment and adequate access to all the other goods which are destined for common use (See Apostolic Exhortation Evangelii Gaudium - The Joy of the Gospel, no. 192). This is the responsibility of any true leader!
In God alone is my soul at rest; my help comes from him. Yes! He alone is my rock, my stronghold, my fortress: I stand firm Yes! Let us as God's stewards provide the enabling environment and services for people to feel God's protection and care! May God bless all in position of authority and trust who use their position to serve the people! May God commend and bless Mr. Peter Obi, CON and his team!
Disclaimer:

"The views/contents expressed in this article are the sole responsibility of the author(s) and do not necessarily reflect those of The Nigerian Voice. The Nigerian Voice will not be responsible or liable for any inaccurate or incorrect statements contained in this article."