I want a successor that will surpass my achievements - Fashola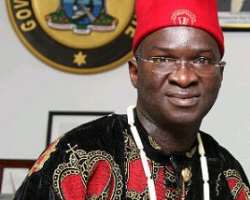 As apprehension and permutation thickens on who becomes the next governor of Lagos State, the incumbent Governor Babatunde Fashola, last Tuesday  met with Lagos State House correspondents at the state House, Marina, Lagos Island and opened up on a number of issues, particularly who succeeds him come 2015. Olasunkanmi Akoni reports:
Apapa regeneration plan
Apapa regeneration is going on slowly. You know there is a jurisdictional issue with Oshodi Apapa Expressway. It belongs to the Federal Government  and Apapa port but the city roads inside the GRA belong to us and we have awarded five to seven roads to Julius Berger to start the phase two.
We had to stop the first phase when we saw that tankers were leaving the ports and coming to park on the roads that were built for residents  and this is due to the failure of supervision of  management by agencies of the Federal Government at the ports. The matter is a tricky one and has not been resolved.
According to information that came to us,  the main storage for fuel is in Apapa for the whole state and the same people that complain of the traffic are going to get the fuel.
You will see that we have cleaned  up around 7up and Ijora. Around constain towards the housing estate, Badia the roads have been awarded. So, it's a gradual process. It takes us two years. All you are seeing at the area is abandonment and neglect for 3 decades and beyond the vehicles towards 7up, it was almost unmotorable.
You could be caught in traffic for 3 hours but now you can drive through the place in 5 minutes. So, we have done the same thing around constain and at the same time, we are opening up and building canals ready for the rains. So, it's a lot of work  and we have done what we can do there.
It's a lot of work. We will continue slowly. We have relocated some tankers under the Marine Bridge and the area. We have taken out some of dangerous substances, weapons, diesel being sold in the open that had caught fire in the past. We are just tidying up the area.
But FERMA is just struggling for space and  is now putting sign posts on areas and roads where we have worked, deceiving its employer in Abuja that it is working. I have taken photographs of the entire area and sent to the Minister of Works saying, 'I hope the people you are giving money to in Lagos are accounting for the money you are giving them because all the works they claim they did, we did them'.
That is the fraud that is going on now. They use money from SURE-P and they are moving about deceiving people in Abuja that they are working in Lagos. To their minds, that is what they will use in winning elections here next year, but the people of Lagos are no fools. The Lagos-Badagry expressway is also making progress. We would soon go back there on inspection. I get regular reports from three different sources on the project.
Lagos- Badagry Expresway Project
There is also a lot of progress on Lagos light rail projects especially from Mile2 to Costain. When you look at the history of our modern civilization, you will find that transportation used to be by foot before it moved to the horses and donkeys and later it became the automobiles and from there, to airspace and speed. If you look at what we are doing today, there is no state that I can think of that has undertaken the size of transportation solution that we are implementing at the same time in the whole world.
They either do one light rail line or one major highway. I don't know any state in the world that is building something like the Lagos Badagry Expressway 60km, Lekki-Epe expressway 50km, Mile12-Ikorodu 20km, a light rail train 27km, four major jetties and terminals and also partnering to install a cable car system. I don't know, only a national government do what we are doing.
That is what is emboldening us to build more homes in Ikorodu, more homes in Agbowa, in Epe and Badagry because we know that by the time they are completed, any journey from there to the city center will be a maximum of 45 minutes to one hour.
We know that people will not go and live there unless they are sure that there are functional transportation system and when they see that those things are coming, they will gladly go there.
Policy sustainability
In terms of policy sustainability, we are fortunate that over the years, the government of Lagos state is becoming more institutionalized and therefore it is becoming easier for every successor to improve on what his predecessor has done.
So I am not worried about the person who will succeed me but I am concerned because I will be involved.  I really hope that the person who will take over after me will be a lot better than me. I hope that the person can do in four years what it has taken us eight years to do. That I know will be beneficial to all of us. My interest in the next election is Lagos: who will be the best to guide and advance the course and interest of Lagos.
On successor
I don't want to be the best governor of Lagos State. My interest in the next election for Lagos State, is who will best protect and advance the interest of the state.
I prefer a successor that will surpass my achievements in office and advance the cause of Lagos State. I am not praying to be the best ever governor of the state, but I expect my successor to carry on the transformation agenda of the state without further delay.
I am not worried about the person who will succeed me, but I am concerned because I will be involved. I really hope that the person who will take over after me will be a lot better than me. I hope that the person can do in four years what it has taken us eight years to do. That I know will be beneficial to all of us.
Lekki FTZ
On the Lekki International Airport, all preparatory work on the proposed project has been done, with the concept design completed and we have carried out international bidding to get financial support for the project.
Between five and seven international bidders have indicated interest in the airport project that would be purely private-driven while government only provides the needed environment for the project.
Some people build airports only for business purposes, they don't run it and that is why we have decay. We are looking for people who will build airport and keep it running with all the modern facilities and concession.  The airport will enhance development at the Lekki Free Trade Zone where economic activities are expected to be at the top flight in the nearest future.