If it's simple n'casual... That's me Thelma Okodua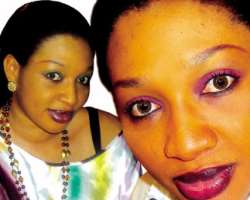 WITH a whole lot of fun growing up, the Esan native Thelma Okodua was born into a closely knit, God fearing family with so much love and affection. She and her siblings, she says, have always been like friends and this made it all the more fun for her. The Uromi, Edo State-born lady is from a large family. She grew up in the East and Studied Computer Science in the University of Port Harcourt. The actress, who also holds a diploma in theatre arts, and currently features in soap operas such as Family Ties and Spider, tells DAMILOLA ADEKOYA how fashion can be so trendy.
Definition of fashion
Fashion to me is any prevailing trend.
Favourite piece of clothing
My favourite piece of clothing is my D&G pair of jeans
Style of dressing
Simple casual, basically anything I'm most comfortable in
Uniqueness of your style
Less is more
Most cherished moment and why
When I had my baby girl because I realised how much God loves me
Most cherish possession
my wedding ring.
Most fashionable or stylish icon(s)
My friend Rita Dominic and internationally, Victoria Beckham
Turn on
Honesty.
Turn off
Liars
What you won't be caught dead wearing?
Iro and Buba
Favorite body product(s)
Black opal's body exfoliator
Role model(s)
My late mother
Acting and you
Acting is something I'm very passionate about and I love every moment I spend working
Latest and next projects
My latest project is a TV series, family ties and my next project is a movie shoot in Ghana at the end of d month.
Signature scent(s), by who and why?
Rose Essentielle by Bvulgari. I Love it because it has an extraordinary scent.
What is the essence of your style?
Comfort
Uniqueness of style
Not trying too hard but still look good and confident
What is sexy on both men and women?
It's really not about what you wear but how you wear it but I don't think you can go wrong in a crisp white shirt and blue jeans.
What is fashion flop to you?
Too much makeup n accessories
Fact about your style
I try to be as simple as possible
Most expensive item (s)
My Chopard wristwatch
Describe yourself in 3 words
Simple, elegant and down to earth
Favorite food
Afang soup and catfish
Favorite colour and why
Black, because just like White, u can never go wrong because it's classy and timeless
What do you do at your leisure time
Watch movies
Favourite spot
Swe bar in City Mall, Lagos
Hobbies
Reading, playing scrabble and traveling
If you were given a chance to change something in Nigeria, what will it be?
The poor power supply
Projection into the future
Having my business run itself n being active on d international scene
Who would you like to work with in the fashion and music industry?
Deola Sagoe & Asa
What else do you do, apart from acting and how do you merge the two together.
I just got married and had a baby, so my major priority has been taking care of my home but I still do business on d side so when I'm not on set, I'm either doing my business or with my family
Who and what inspires you
God and my wonderful husband
Favourite designers and why
In Nigeria, Deola Sagoe, her work is creative and truly beautiful
Philosophy of life
Live your life one day at a time.
Story by nollywoodgists.com