Poly Students Protest Against Prolonged ASUP Strike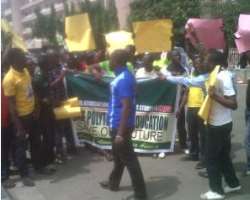 National Association of Polytechnic Students (NAPS) on Monday blocked the gate of the Federal Ministry of Education, Abuja, preventing vehicles from moving in and out of the premises to protest the over eight months strike embarked upon by the Academic Staff Union of Polytechnics (ASUP).
The students, who said the demonstration was the beginning of a massive protest by all polytechnic students and students of allied institutions that award Ordinary National Diploma (OND) and Higher National Diploma (HND) certificates, insisted that they will remain on the street until the Federal Government meets the demand of polytechnic lecturers and the strike is called off.
National President of NAPS, Ogbonnaya Sunday, while speaking on behalf of the students upon the arrival of the Supervising Minister of Education, Mr. Nyesom Wike, at the venue of the protest said: "Sir, it is no longer news that for over eight months now the Academic Staff Union have been on strike and we the students are always on the receiving end because when two elephants fight it is the grass that suffers. Sir, you and I know that an idle mind, they say, is the devil's workshop.
The students of the polytechnics and other allied institutions awarding OND and HND, we have been at home. And we are prone to criminality and our students are prone to prostitution and other social vices that are not of good benefit to our dear nation. And today sir, we are here to say that we are tired of staying at home. We have made frantic effort to ensure that we resolve this issue on the round table without having to drag it to the public domain. But such effort did not see the light of the day. And today that is why the poly students came to air their views and let the whole world know that they are tired of staying at home. Sir, let me draw your attention back.
We were supposed to have embarked on this protest in July 6, 2013 but it was aborted not because we wanted to, but because we wanted peace and believe in dialogue. Again in January 15, 2014, we planned to do the protest, it was aborted, not because we don't have the capacity to take over the entire street of Abuja, but we still believe in dialoguing that was why we went back into our shell. But now sir, this protest we must continue it until we are told to go back to our various campuses. we have sent signal all our polytechnics and other allied institutions as from tomorrow (Wednesday) we are taking over the whole of Abuja until we are told to go back to our campuses."
Responding, the Supervising Minister of Education said: "We really appreciate and thank you and your colleagues for the way you are carrying out the protest in a peaceful manner. Whether we like it or not, protest is one of the ways you can express your views. Nobody is happy that our students are at home. We are really worried about the situation. The President is not happy at all that ASUP is on strike, colleges of education are on strike. I want to assure you that nobody will disturb you on what you are doing. But be rest assured that the government is doing everything possible to resolve the issue. I was in NUC meeting when I was informed of the protest and I had to leave to come and address you. I like you maturity. Just give me from now till Wednesday or Thursday and come back to me so that I will be able to let you know the final decision we have taken."
He noted that some of the issues in the demands of ASUP have been taken care of, except the issue of salary arrears which government agreed with the union to split and pay twice, but according to him, "they (ASUP) now said they no longer want it that way. All the same we are discussing and the issue will be resolved."
FROM MICHAEL JEGEDE
ABUJA