Yar'adua arm-twists Oil Companies to rehabilitate ex-Militants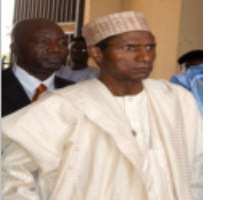 The government of President Umaru Musa Yar'adua has resorted to blackmail and hardball tactics to extort monies from the oil majors, coercing them to cough up the monies to pay for the rehabilitation of ex-Niger Delta militants who recently accepted the government's amnesty, but ensuring that hardliners like Government Tompolo accepts the amnesty remains a big challenge, sources told Huhuonline.com

A Presidential source told Huhuonline.com on condition of anonymity that President Musa Yar'adua was shameless and blunt when he met Thursday with Shell's Chief Executive Officer Peter Voser in Abuja to discuss the situation in the oil-producing Niger Delta, which has seen a lull in violence in the last few months. "You people created all the problems in the Niger Delta," the source quoted Yar'adua as telling Voser, adding: "you must lead the way in finding solutions to the problems you created and the government is willing to help, but this is a problem that the oil industry created."

It was yet the most savage indictment of the oil industry by a sitting President, but Yar'adua, who has been trying to wrestle financial concessions from the oil majors made no bones about the fact that the oil companies must help pay for the rehabilitation of the former militants since the oil companies would directly benefit from peace in the region. The pressure seems to have paid off.

The Royal Dutch oil giant became the first foreign oil firm to offer help to the ex-militants. Royal Dutch Shell announced it would provide training and financial assistance to some former Niger Delta militants who accepted the government's amnesty. It was not clear how much money Shell will make available to the amnesty participants, but sources tell Huhuonline.com that government agencies have only received N960 million ($6.5 million) out of the N10.14 billion earmarked by the National Assembly for the entire amnesty program.

Shell, whose joint venture with state-run Nigerian National Petroleum Corporation (NNPC) accounts for more than 40% of Nigeria's total production, is the first foreign oil firm to publicly offer assistance. Sources also told Huhuonline.com that Shell, which is the biggest foreign energy company operating in Nigeria, will use its small and medium enterprise fund to assist the former rebels in setting up businesses. The European Union has also indicated it would consider providing financial aid if Nigeria asked.

President Yar'adua has offered to allocate 10% of Nigeria's oil joint ventures to Niger Delta residents, potentially providing them with hundreds of millions of dollars each year in cash benefits but details of the initiative remain to be worked out in the petroleum bill which has stalled in parliament, where political support for the bill is wavering.

Industry analysts told Huhuonline.com that former fighters -- hardened by years of living by the gun -- will need to be quickly retrained and guaranteed a source of income if new militant leaders are not to emerge and use them to resume attacks on the oil industry.
|
Article source