ETUHU SET TO DERAIL MAN UTD'S TITLE RACE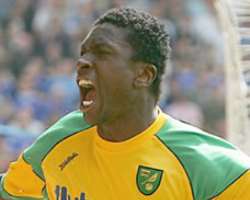 Etuhu set to derail Man Utd's title race
By MADUABUCHI KALU
Sunday, March 14, 2010
Today, lovers of FA Barclay Premier League will be treated with classical and explosive encounter, as in-form Manchester United welcomes stubborn Fulham at the Old Trafford in one of today's fixtures.
There is no doubt that Manchester United is enjoying one of its best form as it has been fantastic both at home and in Europe, where it is campaigning in the UEFA Champions League and has qualified for the quarterfinal stage thanks to its impressive outing against Italian giants, AC Milan, which it handed a 4-0 defeat on Wednesday.
It is believed that Man U will bring its devastating form, which enabled it to beat Milan during the week, to bear in today's match against Fulham.
On paper, it would be easy to award the match to Manchester United because of its pedigree, coupled to the fact that it is on fire at the moment. The Sir Alex Ferguson-tutored side recently won its first silver of the season – the Carling Cup. Manchester United proved to be the better side in the final as it came from behind to lift the trophy after Gabriel Agbonlahor had put Aston Villa in front.
Man U parades one of the best strikers in the world in Weayne Rooney, who many are describing as the best at the moment, and with his current form, it will only take ill luck to prevent the Red Devils from carrying the day. This is one player, who gives 101 per cent in every match he plays. So, the earlier Fulham curtails him today, the better for them.
Man U is at the top of the Premier League table at the moment, followed by Chelsea, who as well has a match in hand. The Red Devils is not only about Rooney, the team is made up of good and solid players, who are battle ready to defend the trophy they have won for three consecutive seasons, a feat yet to be matched by any other Premier League side.
Again, the club is not about the players alone, though they seem to be the real actors. The club has a sound and respectable manager in Sir Alex Ferguson, who has fought many football battles and knows what it takes to continue to remain atop.
Meanwhile, Nigerian-born Dickson Etuhu is set to scuttle Manchester United's ambition of winning the Premier League for the fourth consecutive time, as he plays a vital role for Fulham to ensure that Man U does not taste victory today. Etuhu said he's quite prepared for the match.
Fulham's manager, Roy Hudson is one coach that has proved himself in his chosen career and will not allow his side to be humiliated by another Premier League side, not even by Manchester United. His team's strength lies more on teamwork, which is vital to the club.
There is no doubt that Fulham is one team that most Premier League sides dread a lot because of its stubbornness. It is a good side despite occupying the 10th position on the league table at the moment. On a good day it can wreck any team and Man United is not an exception.
It is expected that Fulham is going to make things difficult for Man United at Old Trafford. Even if it is going to lose in today's encounter, it is certainly going to give a good account of itself. In the other fixture for the day, fifth-placed Manchester City will square up against Sunderland, which is lying 13th on the Premier League table. Although Man City still has two matches in hand, it will be aiming to surge into the 'big four' bracket, while Sunderland will also be aiming to climb some steps further.
Football fans will, therefore, have value for their money as they converge at their various viewing centres to cheer their favourable sides.