Don't mind Morinho, Chelsea is good stead for the EPL title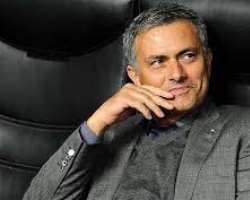 Gareth Wheeler of TSN Radio 1050 Toronto offers his Midweek Musings for Match-day 24 in the Barclay's Premier League.
- Chelsea's 1-0 win at the Etihad, spoiling Manchester City's perfect home record continues to be the talking point of the week. Chelsea's prudent defensive record and approach under Jose Mourinho always makes them a contender in all competitions. Tactically, the Portuguese is among the finest managers in the game. His public demeanour remains all over the place, providing fodder for argument. Despite sitting only two points back of Arsenal atop the table and having an easier schedule the rest of the way, Mourinho continues to downplay Chelsea's title chances. Assessing the title race, Mourinho explains, "Two horses (Arsenal, Man City) and a little horse (Chelsea) that still needs milk and to learn how to jump. A horse that next season can race." Not sure if we're getting the straight goods, straight from the horse's mouth. Yes, Chelsea is a team in transformation as Mourinho finds players to ideally play his way. Add a striker and another centre-back for next season, and add the injured Marco van Ginkel into the fray, Chelsea promises to be scary good next season. That being said, Mourinho suggesting Chelsea is on the outside looking in is a fallacy. Mourinho can't believe it to be true. A trip to Anfield is as difficult as it gets away from Stamford Bridge. And his team is undefeated in their last 10. In this analyst's eye, Chelsea are favourite to win the league. Downplaying Chelsea's chances is an alternative type of psychological warfare. Sir Alex Ferguson's Manchester United, who dominated the Premier League for the better part of the last two decades, were always full of belief, publicly and privately stating their intent in the title race. It's shocking Mourinho is using this tact when he has a team of millionaire superstars at his disposal. No matter what he says, Mourinho isn't fooling anyone. At the very least, it keeps things interesting.
- City was down two key players in Monday's loss. Centre-midfielder Fernandhino and top striker Sergio Aguero missed the all-important occasion through injury. While Fernandhino's steady approach was missed, it paled in comparison to the void left by Aguero. While City's other forwards are of high quality, they lack the same game-breaking ability of Aguero. 15 league goals in 15 games is an astounding record. A constant danger inside the box and lethal on his right foot, City lacked the Argentine's cutting edge against a team difficult to penetrate. It's no coincidence David Silva is at his best with Aguero on the field. The movement off the ball makes the duo as difficult a combination to play against as any in world football. Matches against Chelsea in the FA Cup and Barcelona in the Champions League in the next two weeks, potentially without Aguero, raises true questions of whether City can truly compete in all four competitions. Aguero is that important.
- As Mourinho continues to make a near seamless transition back into English football, David Moyes' struggles at Manchester United remain. A 2-1 loss against lowly Stoke City, a team having picked up just one point in their previous six, compounds his problems. Moyes has made 83 changes to his starting XI in league games, 11 more than any other manager in the Premier League. Injuries have been an issue here, but no excuse for such poor form. The lack of involvement and interplay between attacking players was ultimately most disturbing at the Britannia. Michael Carrick being forced to centre-back is one thing, but the attacking players going MIA speaks to Moyes' team approach lacking inspiration. Where are the fresh ideas? What is his team's identity? These questions can't be answered. And that is a failure. United are playing an unimaginative, passive, unaware brand of football. One has to wonder if a manager of alternate stature would be faring better at present time with this team. What if Mourinho was at Manchester United? It's difficult to think this same team would be in seventh place under the Portuguese leadership. It's a valid question to ask, as it seemed all along Mourinho wanted the Old Trafford job. And in his autobiography, Sir Alex Ferguson was full of praise of Mourinho and his managerial ability. Ferguson may have seen some of himself in Moyes. But did United need another Ferguson? Better question: can another Ferguson be cultivated in the present day climate? Moyes isn't going anywhere, for now. But it's legitimate to question whether Ferguson picked the right successor for a new Manchester United.
- Arsenal may be the most under-respected among title contenders. There has been a remarkable consistency in the side. The attacking flair and superior passing remains, even without Theo Walcott and Aaron Ramsey. The development of the centre-back partnership between Laurent Koscielny and Per Mertesacker has been essential to the exceptional form. The spine of the team is arguably the strongest in the league, led by the duo. Arsenal remain undefeated since January 2012, a stretch of 31 games with Koscielny and Mertesacker both in the starting XI. The next two games are massive for Arsenal and potential title hopes. Back-to-back games at Liverpool and home to Manchester United are true tests. Full points would be a giant step towards ending their 10-year title drought. It would also silence the critics wondering where the January striker signing ended up.
- The true importance of a manager will be tested now that Michael Laudrup has been sacked by Swansea City. Laudrup helped build on the accomplishments of Brendan Rodgers at the Welsh club, leading Swansea to their first major silverware in the club's history and venturing into the previous unchartered territory of the Europa League. Injuries have decimated the team, with last year's star player Michu a long-term absentee. The midfield has been torn apart, and the failure to bring back Ki-Sung Yueng off loan from Sunderland raised eyebrows. A vacation to Paris, dressing room turmoil, an uncertain future, and six points from their last 10 matches all contributed to his sacking. Fact remains Swansea have completed almost 600 more passes than any team in the league and still have the top pass accuracy. The stylish football is no fluke. It's progressive and refreshing. Credit Laudrup. With the short-term hiring of Garry Monk, the club is apparently choosing stability over style. A risk, not worth taking. It will be determined in short order the importance of style vs. stability. I'd choose Laudrup. Now a relegation fight beckons under the veil of the great unknown. Good luck with that.
- The Sunderland climb off the bottom continued with an emphatic 3-0 away derby win over Newcastle. Gus Poyet's side is flying, with true competition for places in the side, and a good combination of strength and skill. As for Newcastle, it's all gone pear-shaped. The loss of Yohan Cabaye was the first blow. Being without top goal scorer Loic Remy, suspended for three was the clincher. An in-form Remy and consistency from Hatem Ben Arfa will be essential to staying in the top half of the table. Some good news for Newcastle, the team's latest embarrassment, director of football Joe Kinnear has mercifully stepped aside, putting an end to experiment gone wrong from the get-go. Kinnear said he'd be judged in the transfer window; he didn't sign one player last summer or in January. He did however state potential transfer interest in a player already at the club during a radio interview. An absolute nightmare. Alan Pardew now solely has to deal with the bad dreams. His team is a mess, again.
- West Ham's co-owner David Gold is threatening legal action over Andy Carroll's red against Swansea City. Carroll swung recklessly, albeit not making much contact, after challenging for an aerial ball with Chico Flores. It's difficult to judge intent, and if there was, it should always be an automatic sending off. Carroll now faces a three-match ban. Most troubling, West Ham believes Carroll's suspension could make-or-break the Hammers in their relegation fight. Scary thought. Carroll was involved in both West Ham goals last week, but has been an absolute nightmare in front of goal. His performances have been abysmal. And the player often looks lost. If West Ham is relying upon Carroll as saviour, they may as well already punch their ticket to the League Championship. Not good