Fashola to embark on aggressive renovation of Lagos schools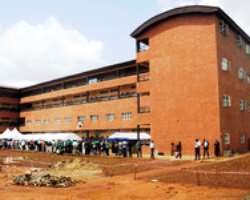 Gov. Babatunde Fashola of Lagos State on Thursday said a school maintenance programme had been developed toward aggressive renovation of schools in the state.
Fashola spoke while inaugurating two blocks of 12 classrooms at Iba Housing Estate Secondary School, Ojo.
He said that the programme, launched late in 2013, was kicked off with the award of contracts for the repairs of damaged furniture in schools.
The governor said that adequate provisions had been made in the state's 2014 budget to ensure that many schools were renovated under the programme.
Fashola said that the new programme required teachers to take responsibility for the maintenance of their schools.
"We will now hold teachers responsible for the maintenance of their schools.
"The responsibility they have is to help the government to know if there are problems in their schools because we can't be everywhere.
"So, we have designed a form which our teachers will fill every month.
"Where there is a broken window, a broken chair, a leaking roof or any problem at all, they indicate this and send the completed forms for government's interventions,' he said.
Fashola said that the provision of new classroom blocks at Iba Housing Estate Secondary School was a demonstration of the government's commitment to improving access to education.
The governor said that new schools would be delivered across the state in the course of the year to further improve access.
Mrs Olayinka Oladunjoye, the state Commissioner for Education, said that the new blocks of classrooms were delivered with a functional laboratory and a library.
She urged teachers and students of the school to take ownership of the project and ensure that the classrooms served their purpose.
Fashola also inaugurated a school, Alice Ogbara Junior Memorial School in Ajangbadi.
The school, a block of 18 classrooms, was donated to the state government by a businesswoman, Mrs Folorunsho Alakija.
Alakija said that she donated the school, named after her late mother, to support the development of education in the state.