POWER HORSE congratulates South Africa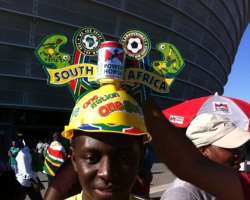 Official Orange CHAN 2014 sponsors POWER HORSE congratulates South Africa for organising a perfect tournament
According to POWER HORSE, Orange CHAN 2014 was organised perfectly by host nation South Africa and the Rainbow Nation has justified FIFA's promotion of the event to full "A" status.
POWER HORSE was particularly impressed with the high standards of administration, operation and security. Moreover, the passion of the fans, naturally especially that of the Bafana Bafana followers, made the event a unique experience.
The Austrian energy drink company was thus even more delighted that the top goalscorer trophy, which was especially designed and branded by POWER HORSE for the occasion, was handed over to South Africa star striker Bernard Parker, who netted the ball four times despite not reaching the knockout stages with his team.
One of Africa's greatest football talents and POWER HORSE's new testimonial for its upcoming continental promotion campaign, Nigerian international Morenikeji Taofeek Akanbi, presented the trophy to the Kaizer Chiefs ace.
POWER HORSE has signed a multi-year-deal to be official sponsor of the continent's major football competition in 2014 and 2016 to take its commitment to African football to the next level. Supporting newly FIFA approved Orange CHAN 2014 was thus the logical next step for POWER HORSE. The Austrian energy drink company added to the excitement of the football spectacle holding product samplings and crowd entertainment events in Cape Town and Bloemfontein.
Founded in 2004, POWER HORSE established its products as a leading brand in the premium segment of energy drinks. POWER HORSE is actually represented in more than 50 countries worldwide and it is the number one energy drink in wide parts of Africa and the Middle East. The product range includes the classic POWER HORSE regular, the calorie reduced POWER HORSE sugarfree and the flavored POWER HORSE Energy Cola.