We Are Not Getting A Divorce! - T.I & Tiny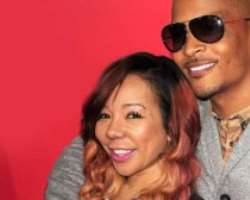 Rapper T.I and his wife, Tiny are not breaking up after spending 3 years together! The rapper revealed the good news to gossip site TMZ yesterday at the brink of a shocking breakup rumour.
According to the reports, the couple was allegedly heading for a separation after T.I was a no-show at the just ended Grammys and he and Tiny partied separately afterward.
The rapper however admitted, there was a big argument between himself and his wife, but it was over something pretty stupid. Tiny wanted to walk the Grammy red carpet and watch the show but T.I wanted none of it. He adds that they angrily challenged each other on who would end up having more fun that night. But by the next morning, they mended fences.
Well, guys the happy couple are what they are HAPPY COUPLE!