Serena Williams B**bs Were Meant For Earnings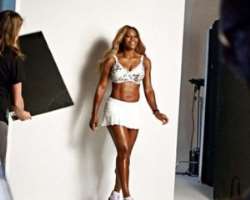 Serena Williams took time out from her hectic tennis schedule to star in a recent campaign for Australian lingerie brand, Berlei where she didn't care showing off her curvy figure and huge boobs in a variety of sports bras.
The world number one tennis player has been the brand ambassador of Berlei for two years and for her it was about telling readers of Elle Magazine[covering the shoot] how she works closely with brands Nike and Berlei to design her own on-court outfits.
Speaking about her favourite bra, Serena tells fans, 'It's perfect for high-impact activity. Its super comfy, even when you're working up a serious sweat.' The sports star looked stunning as she mixes the accoutrement with both tennis attire and designer pieces; letting her hair coiffed in tumbling waves and gold themed makeup conquerors.
The star also goes on to share her on-court style secrets, saying: 'I love classic lines that are functional but work with my shape. This year is all about colour blocking, so this paved the way for the look. Bright colours, like blue and pink, were teamed with panels of black for a slimming yet bold look,' she described one of her on going Australian Open outfits.
It seems like Serena takes her fashion almost as seriously as her tennis, citing Burberry, Dolce & Gabbana and Giorgio Armani as her favourite designers.