A Rescue Mission That Made An Extra Impact.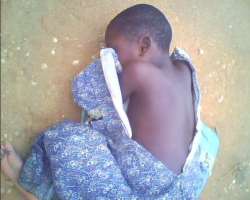 Just about 45 minutes away from 10 pm, the phone rang with at least two missed calls.
CRARN Personnel: Hello, how may I help you? (...handing over the phone to Sam)
Volunteer: Is this CRARN office; I mean that group in Eket that takes care of 'witch' children?
Sam Itauma: O' yes! Any problem? (returning back the phone the personnel)
Volunteer: There are two children here close to that market that your men picked some children two days ago. Can you come and pick them before some human traffickers take them away?
CRARN Personnel: Of course! But can you keep them in a safe place so that we can come and pick them tomorrow?
Volunteer: I would love to do so, but my husband will not allow them inside the house. I will ask them to sleep in the veranda of my shop in the market with my blanket till you come tomorrow morning. But please, do not fail to come because one of them has a big machetes cut on head with blood still dripping. And as you can see, it is raining heavily and the weather is very cold.
CRARN Personnel: Can you, please, wrap the head with cloth to stop the blood from oozing out?
Volunteer: Ok, Sir. I will do so.
.
Early in the morning, a CRARN rescue team led by Sam Itauma set off for Oron. It's about 30 to 40 minutes' drive from Eket. But it turned out to be one hour 20 minutes given the muddy road due to the rain and ongoing federal road construction. While driving to Oron, we spotted a five year old female child lying on the side of the road, just as we were entering Oron from Urue Offong Oruko Local Government.
She was in deep sleep the very morning gripped by the night rain cold. We thought she was already dead; as she didn't respond to calls and light shakes to wake her up.
She wobbled as we raised her up. She said she has been walking for the past 5 days without food, and been on the street for some weeks sleeping under road construction tippers and forklifts.
In the truck, she grabbed the sachet water with bread like a ferocious lion, and did herself justice. She didn't say anything, neither did she show any signs of apprehension as to where she was being taken to, even as we explained briefly to her who we were.
'My name is Nkoyo.' She managed to respond to one of the rescuers' query.
In the CRARN Children Centre, about 15 children, rushed to the truck to welcome her; as she stepped out with a stunning smile.
"She will be my daughter," ten years old Eno said.
"No! She is going to be mine. And I will take care of her. I am going to be her mother" 12 years old Ndifreke responded.
"But you have three daughters already, and I have only one." Eno argued.
They continued their light-hearted argument as Nkoyo was taken to the caregivers office for documentation.
The stories of the two children which brought about Nkoyo's rescue, will be posted subsequently.
By Bassey Esang
LITTLE NKOYO SLEEPING BY THE SIDE OF THE ORON EAST WEST ROAD..
LITTLE NKOYO ZOOMED NEARER
SAM ITAUMA AND THE RESCUED NKOYO WAITING FOR THE REVERSING TRUCK
SAM ITAUMA FEELING AND MASSAGING NKOYO'S BENUMBED HAND.