Anambra Indegenes evacuated from the CAR arrive in Awka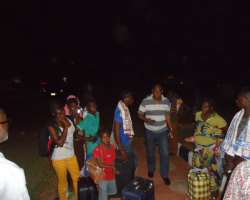 Anambra State Government responded proactively in receiving its indegenes evacuated from war-torn the Central African Republic (CAR)
In seamless operation coordinated by NEMA and the Anambra Liaison Office in Abuja under the supervision of Dr. Beatrice Okonkwo, Permanent Secretary and the Head of the Liaison Office, Anambra indegenes totaling 172 so far, were evacuated by road to Awka, where they were received by the SSG Oseloka Obaze, SEMA and ANSG Health officials. Children under the age of 15 years were inoculated as a preventive measure to possible exposure to measles while in the CAR evacuation camps. The returnees expressed profound gratitude to Gov. Peter Obi for the proactive handling of their return.
The Local Government Ministry took charge of conveying each returnee to their respective homesteads. SSG Oseloka H. Obaze who coordinated the overall response by Anambra, told the returnees that the Peter Obi administration was committed to safeguarding the welfare of Anambra people regardless of where they are domiciled. He once again thanked the federal authorities, especially, the Presidency, the Ministry of Foreign Affairs and the National Emergency Management Agency for evacuating Nigerians from the CAR.
ANSG Protocol Staff Nwabufo Nwankwo chaperoning some of the returnees at the Government House Awka.
SSG Oseloka H. Obaze (l) with some of the returnees at the Govt House Awka-- infants and those under 15 years were immunized for measles upon return to Awka.
Some returnees on a luxurious bus that brought them to Awka
SSG Oseloka Obaze addressing some of the returnees a their hotel in Awka
SSG Obaze (l) with ANSG Emergency and Protocol Staffers and the leader of the returnees (r).