Nollywood Susan Peters Turns Musician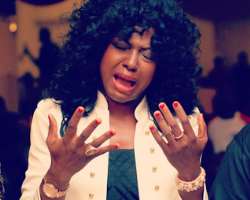 It is no longer news that Nollywood actor and actress who finds passion in doing what they do best are not satisfied with what they are earning (just saying though) because I wonder what will allow them deviate from acting into politics or music because it seems those are the two basic profession reigning for our actors and actresses as a plan B.
But unfortunately many who has deviated into music, didn't last for long in the music industry, for so many reasons which they owe themselves, it didn't seem to come out with the best as they expected it to be, of course except Tonto Dikeh who has even moved a step further by been a record label owner, funny enough she is still on the watch.
Guess who has now joined the long line of 'actress cum singer' it is Susan Peters. The singer has announced that she has started recording her first single song.
So it's not just only about Tonto Dikeh now, Susan Peters has joined the train.
And let's see if this last.