UNIJOS moves to avert another ASUU strike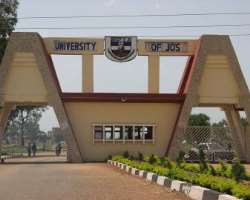 The management of University of Jos on Monday took steps to avert another strike by the local chapter of the Academic Staff Union of Universities (ASUU).
The University inaugurated a committee to urgently address errors in the payment of the earned allowances of the members of the academic staff of the university as lecturers vowed to stay away from work.
It would be recalled that the lecturers vowed not to participate in any academic activity until their allowances were fully paid.
Prof Hayward Mafuyai, UNIJOS Vice Chancellor who briefed newsmen shortly after an emergency meeting of the University Senate said that the committee was given three days to complete its assignment.
Mafuyai said that the senate during the meeting reaffirmed that the Jan 6, 2014 resumption date of the university stands.
'The ASUU Chairperson was in the meeting and he told us on the floor of the senate that ASUU was not on strike, it therefore means that the activities would go on as expected,'' he said.
He said that committee that paid the allowances was the university council committee and not management committee as was wrongly portrayed by ASUU.
'Earned allowances were paid to all members of staff of the University on Oct. 4, 2013 and Dec. 4, 2013 respectively.
'Management has noted the observations of ASUU, University of Jos Chapter, of a few errors in the payment made and the committee is to reconcile differences within the shortest time,''.
The VC advised the students, heads of departments and deans to report any lecturer who absents himself/herself from  classes since ASUU was not on strike.
Mafuyai, who assured the lecturers that the issue would sorted out immediately, noted that it was time to recover from the five months wasted during the ASUU strike instead of elongating it locally.
Meanwhile, Dr David Jangkam, ASUU Chairperson, said that fundamental errors were  made in the payment N1.16 billion released to UNIJOS by the Federal Government for earned allowances.
Jangkam said some of their members were either under paid or not paid at all.
'Those who are not entitled to the allowance got three to four times what those who are entitled to got.
'The ASUU University of Jos chapter has met and has written to call the attention of the University administration to this misapplication of money meant for members of ASUU but to no avail,'' he said
He said that an understanding to resolve the issue has started and that they were holding discussions with the management with a view to resolving the issue in the shortest time possible.
'I want to correct the impression that we were on strike,  We communicated to the management of the university our observations on the earned allowances.
'But I want to add, however, that we will not go back to the class until the issue is addressed.
' We want the money to be paid so that it would not disturb activities in the University of Jos,'' he stated. (NAN)