IN NIGERIA, SERIOUS ISSUES ARE REDUCED TO SLOGANS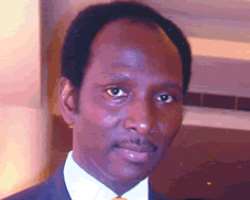 In Nigeria, serious issues are reduced to slogans - Ayeni, MD, Sloan Communications
By CHIMA TITUS NWOKOJI
Thursday, March 11, 2010
Ayeni
'The solution to all the issue of deregulation is to deal with supply because we have the capacity. The authorities should clear the mess in the oil industry and stop shifting the burden to Nigerians.'
' This was the view of Mr. Sesan Ayeni, Managing Director of Sloan Communication Company in an exclusive interview with Daily Sun.
Exerpts:
The company
Sloan communication is essentially an advertising and marketing communication consultancy company. We seek out Client that would require our services in the above areas. We do creative strategy and advertising. When we have Clients that come for advisory services, Sloan Communication tries to bring together the elements that will satisfy the Client.
Creative strategy and branding
The two are not essentially different but when you talk about branding, you would be looking at a point of differentiation from other products. It comes because of competition. For a business to survive on a continuous basis, there is need to differentiate its products or services. This is where the whole idea of brand and branding comes in. In doing something different you look at the entire category of business and try to find out a point of differentiation.
It is that point that customers can identify you based on physical attributes. Every product that comes to the market must have a reason for coming or a need to satisfy otherwise, it is useless. If you produce and nobody sees any need for it, they will not buy and the product dies. When you find out that reason, you can now put a lot of scheme together to give it a label and make it distinct. So the accumulation of all those activities comes to what people call brand and make it look great. So, in summary, branding involves conceptualization, research, market survey and other activity that ends up making a product unique.
Another example is what low litters are doing in managing Star Lager Beer for over 70 years. They have been developing and giving value to that product. What gives the brand value involves all the activities: Promotion, Replacing, Reformulation, Changing the bottles and many more. They kept updating the brand profile to suit the new generation.
It is called Brand Revitalization. In essence, when we say Integrated Marketing Communication, we look at the 360 degrees view of the brand and how you can inter-link all the touch points; advertising and communication such that there are some form of unity.
Attraction to communication sector
From the very first time I got into advertising and communication, I have been enjoying it. Business may be challenging in terms of how to organize and grow it on a continuous basis but so far I would say so good.
Challenges
When you are operating in an environment like ours when infrastructure is not there, you are bound to experience some difficulties. Again, the environment in Nigeria is not prime for growth. It limits what you can do. You know companies are folding up because of power problem. This throws up a lot of issues. If companies are not there to produce, it means we don't have business to do. We cannot promote anything, and if there is nothing to promote it means people cannot be employed.
If companies are producing and we are promoting the products, a lot of people will be exposed to the products. As they buy them, the companies will in turn invest more money into expansion and job creation. So, our own environment is more like business contracting. We cannot be efficient in the midst of inefficiencies. A lot of things happen when we create an enabling environment. Take the issue of GSM as an example.
GSM revolution
If anybody said to you before 2001 that in less than 10 years, Nigeria would have 70 million lines, will you believe? For 40 years NITEL gave us just 400,000 Lines working. So, if government had not taken that decision to give out those licenses and create the enabling environment for them to come, you can imagine what NITEL would do in less than 10 years. You can also imagine if such environment is replicated in the power sector, such that we have uninterrupted power supply, the impact in business would be Phenomenal.
As at today, china has 2.3 trillion US dollars in reserves. Nigeria is talking about 43 to 47 billion Naira. That tells you the level of activities going on in China. There is huge consumption, which is why china talks about anything like raw material in large quantity. There is massive production going on in china. In fact they are the world's greatest manufacturing hubs.
It is not that the potentials are not there in Nigeria. When you compare the period of our first rolling plan and now that we are not even planning, you discover, that we have missed so much opportunities to really do something about our economy.
Employment
A lot of our young people are out of jobs and that is why we see a lot of flash points here and there. So any small thing, mischievous people find those to recruit for nothing, to go and kill.
If people are not working they take to crime if they are not responsible enough. Elsewhere they can key up somewhere and get stipend from the government.
What are we saying? You are sacking people in banks and yet the people that are brought in to rescue the banks are buying bulletproof vehicles of N30million and N40million. In government you see the same thing. Check their travel estacode and all that. How can somebody who spent only 3 months in the rescued back take $120 thousand as leave allowance and somebody can open mouth to defend it. This will give you an idea of what people in government are doing.
Sloganeering in Nigeria
One thing I have found out about our country is that we reduce very serious problem to slogans. And once we reduce it to slogan, it becomes unworkable. Such slogans as vision 2020, seven point agenda, 6000 mega watts have not taken us anywhere. If we have been building 1000 mega watts every year, in October when Nigeria will be 50years, we would have 5000 mega watts. But now you want to build 6000 mega watts in less than 5 months.
It is absurd. For instance in the United States, they are talking about over a million mega watts. South Africa has 36,000 MW and they are having power challenges. In fact Zambia is saying they will sell some excessive capacity to them because they need a lot of power for the world cup. They are having the challenge because 10 yrs ago they ought to have made some investment in power, which they failed to do. These examples gives you an idea that if we get things right, there is no Country in Africa that will come near us. Power surpasses everything. Talk about traffic light and ATM; I don't even know how the banks manage their ATM because anywhere in the world, the efficiency of such services depends on constant power. Today the size of GDP of South Africa is 250 US billion dollars while Nigeria is about 200 billion dollars.
So, instead of 7-point agenda, the incumbent government should have taken one point; power. When you deal with power, every other thing corrects itself. Security is an ongoing thing so also is internal Conflict. Politics is negotiating on power. In the process of negotiation, there will be Conflict. And when there is Conflict we have institutions that will resolve the conflict. But it's unfortunate that we have weak institutions. That is why little conflict leads to conflagration like what we had in Niger Delta and subsequently in Jos.