There Were Moments I Didn't Have Food to Eat- Ramsey Nuoah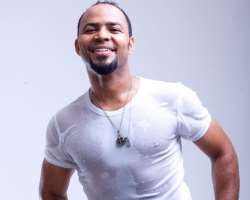 Nollywood play boy actor, Ramsey Nuoah recently hand an interview where he disclosed both sweet and past experiences of his life and career. Below is few excerpts from the interview :
"There were moments; those terrible moments when we had nothing and we were living off people. People were just helping us out. There were times we didn't have food to eat three or four days. You haven't eaten and your stomach is rumbling but you don't have any place to go. There was a time I lived on the street, in shops. There was a time I slept under the bridge. It was unfortunate that there were no records so that we can have memories we could play back now. To me, I am so extremely grateful that I went through it. At that time I hated everybody around me. In fact, I used to question why God was doing this to me. But I think God knew that I needed this for my future.
When asked if he is a snub like people say, he stated: "I am a regular easy-going kind of guy. I am not a snub and I am not arrogant. Most times a lot of people had criticized me, but as an actor that is the cross I need to carry. And it is easy for you to say because you are not wearing my shoe. Nigerians are very quick in judging because they are good in throwing words before thinking about them. But the truth of the matter is that we are normal human beings like you. I am not Jesus and I am not here to save the world.
"I am just an actor. Some people are making my life miserable. At some point when you think that I am arrogant or proud, it might be due to circumstances. I might be having a bad day. That I am an actor does not mean I have it all good and smooth. For all you know, my daughter or my son might be sick in the hospital and you probably came at the wrong time. This could make people think that you are arrogant.
What about his irregularity in movie, he stated: "I am still on the screen; I pray for better industry than what we have. We don't have a proper structure and it is affecting us. It is affecting so many of us because we don't have a secured future. For instance, some veteran actors passed on and people had to gather just to try and give them a befitting burial. That shouldn't be the case. We have an industry that just paid you one off. It is not in any way protective of the interest of the practitioners, it is not really helping us.
"I believe strongly that we need to do a more integrated production, quality production that will last, like when we started at the beginning. All the stories are not encouraging and technicality we are not growing, all these help to slow down the growth of the industry. And without growth there are can never be a future, without dynamics you can't see the frontier. Basically, that's what we are suffering right now and there must be changes. The concern of most people shooting now is about making their money back.
"They don't have passion or love for the industry like we do. So, that's the reason why I am not acting. I love doing a good job, something that will benefit the industry, a movie that whenever you pick it up, if it is five or 20 years you can still watch and be happy. I want a situation whereby I will do a job and my great grandchildren will know me by my work. 'Oh my great grandfather did this, yes he is the one'. That is what I want to do to leave a mark, a legacy, no just a passing face."
-The Sun News
Click the link below to go to...
Actress and Singer, Tonto Dikeh And Her So Many Controversies
Pastor Tunde Bakare Condemns Suspension Of John & Love Kumuyi
Pastor Kumuyi Offers To Resign Due To Son's Wedding Controversy
Singer Iyanya Is Also Interested In Toolz Big Waist?
23 Year-Old Man Weds White Granny In Lagos | See Photo