NIMASA: Petroleum Ministry Vows Curb Crude Oil theft in 2014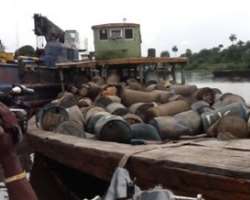 Nigeria Maritime Administration and Safety Agency (NIMASA) and Ministry of Petroleum Resources have promised Nigerians that the increasing criminality in Nigeria's territorial waters such as illegal bunkering, crude oil theft, smuggling and piracy would soon be a thing of the past as federal government and its agencies had vowed that it would effectively curb the menace in the next one year.
Lt-Col. Abu Kefas (rtd), Chairman of Nigeria Maritime Administration and Safety Agency (NIMASA), made the pledge while speaking with newsmen, on Tuesday in Jalingo, Taraba State.
He disclosed that the government is working assiduously with the Air Force and Navy for air surveillance of the country's maritime domain and patrol of the territorial waters to curb the illegal activities.
"Already, this collaboration is yielding positive results. NIMASA's performance in 2013 had made the country's water ways safe for investors. We hope to do more in 2014 bearing in mind that our activities with other agencies will put an end to the menace of crude oil theft in the country," he said.
In another developme, Minister of Petroleum Resources, Deziani Allison-Madueke disclosed to newsmen that In line with government's strategy of growing the National Petroleum Development Company (NPDC's) production capacity, its reserve base has grown to 1.7 billion barrels through strategic divestment initiatives.
The Minister maintained that crude oil production including condensate has been consistently maintained above an average of 2.30 million barrels per day (mbpod) despite illegal oil bunkering, crude oil theft and pipeline vandalism, adding that following the federal government's amnesty programme, Nigeria's production rose from an average of 1.9 mmbopd in 2009 to a peak of 2.62 mmbopd in October 2010.
"Sustaining production at these levels would continues to be challenged by increasing pipeline vandalism and crude theft, which intermittently results in production falling below the programmed 2.46 mmbopd and rebounding following government intervention to stem this menace. However, the government is tackling this problem through enforcement and the Crude Oil Fingerprinting Initiative," She disclosed.
Lamenting that government efforts at addressing the menace of crude oil theft have not been given the needed attention she said, " With challenges like crude theft facing the nation in general and the oil and gas sector in particular, a lot of efforts to rejuvenate the petroleum industry and the dividend these efforts have yielded appear to be escaping prominence."