"I'm Addicted To Shoes, I Have Over 150 Pairs" - Nollywood's Uru Eke, Speaks On Fashion & Lifestyle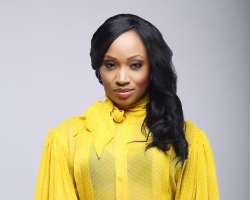 From loving the casual look to owning over 150 pairs of shoes, Nollywood actress and House of Dorcas style ambassador, Uru Eke is gearing up for a 2014 style year with a lot of oomph! check out the highlight of this fashion and lifestyle interview:
What does style mean to you?
Style is a form of expression and may sometimes be determined by how you feel, the occasion and where you live.
What did you get the last time you went shopping?
I bought two wristwatches – love them!
Who's your style icon?
Beyonce- hot, fierce, elegant and full of positive energy!
What's your favourite look?
Leggings and a tank top with a pair of kicks. If I can help it, I'll rock the casual look all year round.
How will you describe your everyday look?
I love the casual look. It's chic and effortless.
Shoes or bags?
Shoes definitely, I just love buying shoes. I have over 150 pairs.
What are your best colours?
Pink, Orange and purple
What's the most essential style tip you religiously adhere to?
A make-up tip: light on the eyes then heavy on the lips; or heavy on the lips then light on the eyes. It gives the perfect blend and balance.
Who's your favourite designers?
House of Dorcas
What is your red-carpet moments going to look like in 2014?
A lot of chirpy, chic, sometimes edgy moments with that oomph that is hard to put a hand on...LOL!
Click the link below to go to...
Is Ini Edo Pregnant Again? Check out this Photo…..
No Iyanya please!" ----Tinsel's Uru Eke
Nike Oshinowo's Marriage To Dr. Duro Soleye Collapses!
Its only in Nigerian movies you would see the following happen.
Diamond Igwe Stages A Multi Million Naira Wedding For Twin Brother
I'm Looking For A Wife, I Want To Marry Soon--Uti
I'VE A MAN IN MAN LIFE…I'M NOT TALKING ABOUT MARRIAGE-Benita Nzeribe