Kunle Afolayan Brother says he cares less about what people say about his marriage to his sugar mummy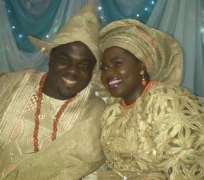 The Afolayan brother who got married weeks ago doesn't care about the rumors that he married his sugar mummy or married secretly but here is what he told PUNCH recently about the rumors:
"People will always say what they want to say. I am not perturbed in any way. I don't care. If I had married a top politician's daughter, I am sure you will not be talking to me. My wife's family is not rich let alone my wife. I got married to somebody I wanted to get married to and not because of her wealth. I don't know why people say all they want to say."
He further denied reports that his brothers were missing at the wedding.
He said, "I wonder how anybody would say my marriage was secret. Some people went ahead to say that my brother (Kunle) was not at the wedding but he was there. Anyway, I am not ready for them. When I am ready, I will let you know"
© 2013 Nollywoodgists.com
Click the link below to go to...
The Good the Bad and the Ugly of AREMU AFOLAYN
Alleged Gigolo, Aremu Afolayan Secretly Marries Lover In Abuja
No Sugar-Mummy Bought That Car For Me--Aremu Afolayan Reacts
Actor, Saheed Balogun Has Threatened To Take His X-Wife To Court For Refusing To Change Her Last Name
Saidi Balogun Is Lying, He Dragged Me To Court Over Use Of His Name (Balogun), Fathia Balogun Confirm
I Have No Issues With Fathia--Saidi Balogun
Fathia Balogun Dares Ex- Husband, Saidi Blogun
>

© 2013 Nollywoodgists.com
Click the link below to go to...
The Good the Bad and the Ugly of AREMU AFOLAYN
Alleged Gigolo, Aremu Afolayan Secretly Marries Lover In Abuja
No Sugar-Mummy Bought That Car For Me--Aremu Afolayan Reacts
Actor, Saheed Balogun Has Threatened To Take His X-Wife To Court For Refusing To Change Her Last Name
Saidi Balogun Is Lying, He Dragged Me To Court Over Use Of His Name (Balogun), Fathia Balogun Confirm
I Have No Issues With Fathia--Saidi Balogun