Zimbabwe insists on indigenisation policy deadline of Jan. 1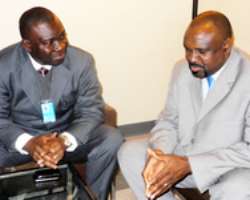 The Zimbabwean Government on Tuesday in Abuja said that it had not rescinded its pronouncement that gave foreign investors in the country up to January 1 to comply with its indigenisation policy.
The Zimbabwean Ambassador to Nigeria, Mr Mabed Ngulani, however denied media reports that government had given a quit notice to foreign investors  in the country.
"Let me make a clarification. Zimbabwe has not given an ultimatum to anybody, Zimbabwe has not given an ultimatum to Nigerians and to the Chinese, the story came in the media.
"What the Permanent Secretary of the Indigenisation Ministry said was that Zimbabwe since the 1980s has had a law in its books that cuts across Southern Africa.
"Certain spheres of business operations are reserved for locals and mostly those businesses are in the retail level.
"Things like hair dressing salons, operating taxis, operating public stores, small space shops, selling hair products and  real estate renting; are reserved strictly for local people.
"I must emphasise, it's not a unique Zimbabwean law, it cuts across all Southern Africa.
" So a quit notice was never given to Nigerians, in fact no nationality was mentioned in that notice', he said.
The ambassador said the policy was aimed at ensuring the country's locals were gainfully employed.
He said the provisions of the law required that foreign businessmen with specific areas of investment partnered with the locals as part of its indigenisation programme.
He said the partnership required 51 per cent of foreign businesses to be ceded to Zimbabwean locals as part of the programme.
He said that though the terms affected foreign investment in the country, there was no indication that the government would review the provisions on the law soon.
"This is one thing that discourages foreign investors from investing in Zimbabwe, it is a big problem.
"The foreign direct investment is not good right now and this is largely because of the 51 per cent indigenisation policy and we have investors expressing concerns in long term investments because of the economy.
"We need investors but the unemployment rate is high and we have to see that Zimbabweans are employed through foreign investments', he said.
The ambassador, however, confirmed that businessmen had begun responding to the government's directive to comply with the law.
"The government has said because you (foreigners) had gone into sectors reserved for the locals we wanted you to partner with the local people as part of our indigenisation programme.
"So I phoned the Ministry of Foreign Affairs after that broke out and I was told the nationals, the bulk of whom are Nigerians and Chinese, to find out how they are going to fulfill this particular law that has never been really effected since the 1980s.
"We have an indigenisation law that says that whoever has a big business operating, if you are a foreigner, you will have to have local partners; what the government is saying is,` can you please get out of business or partner Zimbabweans in your operations?'
"What I am saying therefore is come January 1 you will not hear of mass expulsions of Nigerians, it won't happen.'
The Zimbabwean Government in May published a statutory instrument ordering all businesses operating in the country to apply for indigenisation compliance certificates within six months.
The legislation does not permit foreigners to invest in sectors reserved for locals, such as grain milling, barber shops, tobacco processing, bakeries, and local transportation, among others.
The provisions of the law states that any person who operates a business in the sectors prescribed without an indigenisation compliance certificate from January 1, 2014 shall be guilty of an offence.