EFCC to appeal against El-Rufai's acquital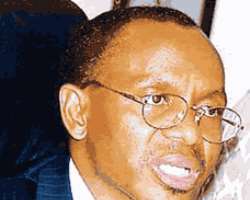 The Economic and Financial Crimes Commission (EFCC), said it will appeal to a higher court against the  decision of a Federal Capital Territory High Court in Abuja to acquit Mallam Nasir el-Rufai, former minister of Federal Capital Territory.
The commission said in a statement that it was dismayed at the setback it suffered in its cases against El-Rufai, and former Chairman Board of Nigeria Ports Authority (NPA) who was also discharged and acquitted from a charge for which he had gone to jail for two years.the commission said, 'Without going into the merit or otherwise of the Supreme court ruling, it is unfortunate that the apex court disagreed with the decision of the two lower courts-the Lagos High Court and the Court of Appeal-which upheld the conviction of the accused persons based on the evidence presented by the Commission..
'While this turn of event is saddening, the Commission as a law abiding institution always respected judicial pronouncements and this will be no different.'
It described the decision of Justice Sadiq Umar that the Commission failed to establish a prima facie case against El-Rufai as being 'against the weight of the evidence' it had presented to the court.