ECOWAS POLL OBSERVERS CHARGED ON INTEGRITY, DEDICATION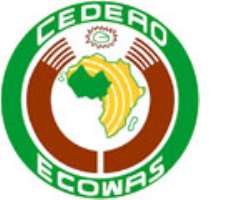 ECOWAS POLL OBSERVERS CHARGED ON INTEGRITY, DEDICATION
ABUJA, Nigeria, December 15, 2013/African Press Organization (APO)/ -- The Head of ECOWAS Election Observation Mission (EOM) to Sunday's second round Parliamentary polls in Mali, Prof. Amos Sawyer, has urged the 50 regional observers "to bring their experience, integrity, commitment and dedication to bear," on their conduct as the region accompanies the country to exit its political and security crises.
"We must also bring love to and solidarity with our brothers and sisters in Mali since no one country in our region can achieve its full potential without taking others along," Prof. Sawyer, former President of Liberia's Interim Government of National Unity, told the ECOWAS observers in Bamako on Saturday 14th December 2013, before their deployment to the various regions of the country.
He described election as a "delicate operation" that could be used to deepen democracy and good governance, but which can also be a source of violence that can thwart the same principles and undermine development.
Prof. Amos Sawyer, who also led the 100-strong ECOWAS observers to the first round Parliamentary voting on 24th November 2013, is supported this time by Ambassador Leopold Ouedraogo, a Member of the ECOWAS Council of the Wise.
The first-round ended inconclusively, with only 20 deputies elected, including two women, out of the 147-seat Parliament with a voter turnout of 38.4%. Four of the elected deputies are from Kidal, one of the volatile northern regions.
Prof. Sawyer expressed optimism that Malians would turn out massively on Sunday to lend credibility to the electoral process. He also expressed the hope that adequate security arrangement would accompany the exercise for a successful process.
Earlier, the Head, ECOWAS Election Assistance Unit, Mr. Francis Oke, had informed the regional observers that normally, ECOWAS observed Presidential elections by Member States, but decided to go the extra-mile to observe the legislative run-off because of the country's peculiar situation and as further demonstration of the region's determination and commitment to accompany Malians in ensuring the successful conclusion of the political transition.
Unlike the first round balloting that involved ¬¬6.5 million registered voters in 55 Constituencies and more than 12,000 polling centres in the country of 16.9 million people, an estimated 5.9 million voters are expected to cast their ballots in about 10,000 polling centres and 45,000 constituencies nationwide on Sunday.
In its Preliminary Declaration, the ECOWAS Election Observation Mission which observed the first round balloting across Mali's eight regions and the Municipalities of the capital, Bamako, adjudged the conduct as credible and transparent.
This followed successful presidential elections last July/August in the country also observed by ECOWAS.
The deployment of poll observers is in furtherance of efforts to help Mali conclude the ECOWAS-facilitated transitional road map for the restoration of full constitutional order and the country's territorial integrity in the aftermath of last year's military coup and separatist insurrection in the north.