President Jonathan, Obama, 58 other leaders for Mandela's burial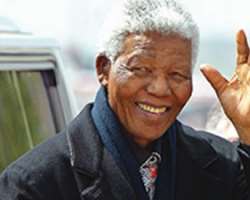 President Goodluck Jonathan; United States President Barrack Obama and  58 other foreign heads of state and government are expected to attend either the memorial ceremony or the state funeral of former South African President, Nelson Mandela.
The funeral is expected to hold in South Africa in the coming week, a foreign ministry spokesman  said. He said the final number of persons who would attend either Tuesday's memorial in Johannesburg or the funeral in Qunu next Sunday would be confirmed in due course.
According to online news reports, Jonathan will leave Abuja on Monday (today)  evening to join other world leaders in South Africa at events leading up to the burial of Mandela. He is expected to also attend the Memorial Service on Tuesday at the FNB Stadium in Johannesburg and will be accompanied by the Minister of Foreign Affairs, Prof. Viola Onwuliri.
International leaders, global figures and celebrities will join 95,000 ordinary South Africans at the memorial service at the FNB Stadium in Soweto, where Mandela made his final major public appearance during the 2010 football World Cup.
The event is likely to be one of the biggest of such gatherings of international dignitaries in recent years. The South African government said 59 leaders had so far confirmed they would be attending, an indication of the special place Mandela held in people's hearts across the world, officials say.
Among those on the list are UN Secretary General Ban Ki-moon; German President Joachim Gauck, EU Commission President Jose Manuel Barroso; Dutch King Willem-Alexander; and Crown Prince Felipe of Spain.
Three former US presidents, George W Bush, Bill Clinton and Jimmy Carter, will join President Obama and First Lady, Michelle Obama.
Brazil's President Dilma Rousseff, Palestinian President Mahmoud Abbas and India's Pranab Mukherjee are also expected at the memorial/funeral . Iran's President Hassan Rouhani has not yet confirmed whether he will travel.
A smaller number of international dignitaries, including the Prince of Wales will attend the burial in the Eastern Cape village of Qunu, where the late president grew up.
Leading celebrities in the anti-apartheid movement, Peter Gabriel and Bono, are also expected to attend as are former international leaders such as Marti Ahtisaari who, along with Mandela, were part of a group known as The Elders, promoting peace and human rights.
Meanwhile, three extra stadiums have been made available for those wanting to attend Tuesday's national memorial service in Johannesburg for Mandela, online news website, News24 reports.
While the main service would be held at the FNB Stadium in Soweto, overflow stadiums had been provided due to the fact that not all mourners could be accommodated there, the city said in a statement on Sunday.
The three extra venues are Ellis Park, and the Orlando and Dobsonville stadiums, where the national memorial service will be broadcast live. The event is set to start on Tuesday at 11:00.
Free public transport has been reportedly arranged by the government and park-and-rides to accommodate mourners, and ensure that they are able to get to the stadiums on time.
The city warned that no cars would be allowed near the FNB Stadium, known to locals as the Calabash, and that roads around the venue would be closed from midnight on Monday, with a 'total shutdown' from early on Tuesday morning.
In a statement, it said, 'Mourners are urged to choose which stadium they want to attend the national memorial service and take heed of the details… in respect of travelling to the different stadiums, and plan their trips accordingly.
'Entrance to FNB Stadium is on a first come, first serve basis.'
Once it was full mourners would be directed to other stadiums, and should listen to their local radio stations and follow social media.
'Mourners are urged to arrive early at the stadiums. [They] will open at 07:00. Parking venues and bus services will be operating from 06:00.'
It said normal bus services offered by Rea Vaya, Metrobus and Putco in and around Johannesburg could be disrupted.
With hymns and eulogies, South Africans of all colors and creeds remembered Mandela in a day of prayers on Sunday, holding him up as an example of freedom and forgiveness to build a better nation and world.
At churches, mosques, synagogues and community halls from the Limpopo River to the Cape, millions offered praise. They reflected on a man celebrated as 'Father of the Nation' and as a global beacon of integrity, rectitude and reconciliation.