Police Strips Naked Exam 'Mercenary' At IUIU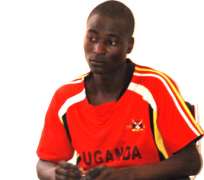 Police had to strip naked a suspected examination imposter at Islamic University in Uganda in order to curtail him from escaping.

Bruhan Uthuwan Wandera, 20, an S6 dropout had, Dec 1, been detained at the university police post in Kibuli after being caught trying to write a micro-economics examination paper for Muhammad Nkedi, a second year student of mass communication.
"On three occasions he timed me attending to something else and took off with a terrible speed. It's the bodabodas who would chase him. So I decided in order to tame him to remove all his clothes apart from the under wear," said a police officer, requesting not to quote his name. The officer's judgment, who apparently was alone as other officers were manning examination entries, restrained the suspect inside the police post until the press arrived that he regained his attire.
According to the examination invigilators, the suspect fumbled about procedures in the examination room which aroused suspicion.
On arrest, he identified himself as Swaib Semwogere but his brother, a senior police officer who came to plead for him confirmed his name as 'Bruhan Wandera.'
"His tricks typify his criminality nature," said the university director, Dr. Adinan Adikata.
"We want to assure anyone that our examination process is very tight and no one can infiltrate our system, "said Mr. Muhammad Soumare, the Assistant Academic Registrar.
The suspect said he wanted to help his brother pass this exam because he had perennially failed it.
"I now realize it was wrong and I want to apologize to the authorities," he said.
"I knew I could help him because this paper is not very different from that of Economics at Uganda Advanced Certificate of Education," he said.
According to university authorities, whereas the suspect would be charged of criminal trespass, the affected student's fate is to be determined by the examination committee, which will convene soon.
"He will be given a fair hearing as per the examination rules,"
said Soumare.

In last academic year, the University expelled four students over related examination malpractices.
This year's first semester/quarter exams kicked off on November 30 and will last throughout December.
2013-12-03 060630
2013-12-03 060646
2013-12-03 060752
2013-12-03 060825
2013-12-03 060843
2013-12-03 060920