England Not Good Enough To Win World Cup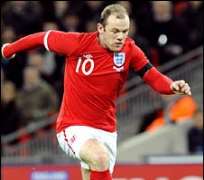 Rooney needs support up front for England to contend, says Hurst
World Cup winner Sir Geoff Hurst feels England are not good enough to win this summer's tournament in South Africa.
Fabio Capello's side qualified with ease and are fancied by some to emulate Hurst's England team of 44 years ago.
But Hurst, who scored a hat-trick in the 1966 final, told BBC Radio 5 live England will only reach the semis.
"We're a tiny bit short up front," said Hurst. "If we had a Fernando Torres up front with Wayne Rooney, then you're looking at a different proposition."
Aston Villa frontman Emile Heskey would appear to be Capello's first-choice striker to play alongside Rooney in attack, having started the last six matches for which he was fit and available.
The likes of Jermain Defoe, Carlton Cole and Darren Bent are also vying for a place in the squad, but Hurst believes Peter Crouch – and not Heskey – could be the best option to lead the England line.
The Tottenham striker came off the bench to score twice in the 3-1 midweek friendly win over Egypt to take his England goalscoring record to 20 goals in 37 matches.
And Hurst said: "He's emerging as the best partner [for Rooney] because I think he can do what Emile Heskey does but, very importantly, he scores a lot more goals.
"One of the prime things you need as a front player is that you score one in two over your career and Peter's England record is getting close to mine now.
"He's a good player, a nice lad, and he's the sort of player you want in the squad if you're going to be successful over the month."
However, Hurst fears that Capello's squad does not have the strength in-depth to win the World Cup.
"We are little bit thin on the ground if we get injuries to major players – if we lose a Rooney or a Steven Gerrard," he added on 5 live's Sportsweek.
After watching a new-look defence, depleted by injuries and Wayne Bridge's decision to quit the team, produce a not wholly convincing performance in the 3-1 friendly win over Egypt on Wednesday, Hurst suggested there were question marks over England's cover.
"If that back four went in against one of the leading lights at the World Cup then I think we could be in trouble," said Hurst.
"Hopefully everybody gets back fit – Glen Johnson gets back in, Ashley Cole recovers, he's the best full-back, and Rio Ferdinand recovers as well.
"We need a fairly settled back four as soon as we possibly can."
More positively, Hurst thinks Capello is cast in the same mould as 1966-winning manager Sir Alf Ramsey.
"I saw Capello in operation when I was a guest of the team in Germany last year and, of course, I played under Alf for six years, so I've made my own mind up on the similarities.
"Off the field you can't be undisciplined with everything you do in the build-up – the training, the staying in hotels, the eating together.
"We have seen a marked difference, and I observed that at very close range in my visit with the team last year.
"We are starting to see a team, and the people in charge, that are as well prepared as they can possibly can be."
Hurst described Capello's decision to strip Chelsea's John Terry of the captaincy in the wake of allegations that he had an affair with the former partner of ex-team-mate Bridge as "just about right".
But Hurst expressed his regret that Bridge had decided to quit the England squad.
"Playing in a World Cup for England is the pinnacle of a player's career," said the former West Ham striker.
"When someone doesn't want to represent their country, it's a sense of disappointment for me."
Since 1966, England have had a mixed record in the World Cup and have managed to reach the semi-finals on just one occasion in 1990.
In 2002 and 2006 England reached the quarter-finals before being knocked out by Brazil and Portugal.